Todd Vasos Receives MMR Lifetime Achievement Award
Jan 17, 2023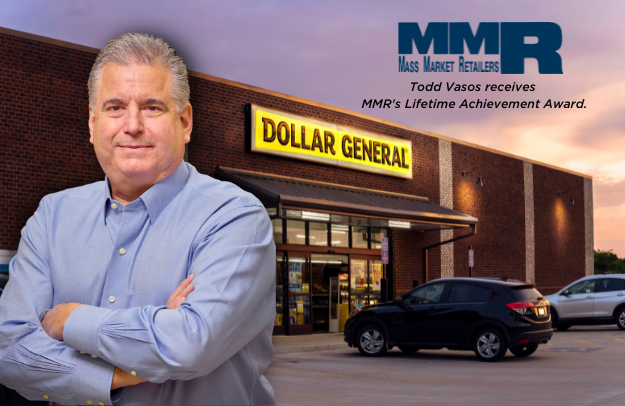 Dollar General is thrilled to announce
Mass Market Retailer
recently honored Todd Vasos with its prestigious Lifetime Achievement Award in its January 16, 2023
issue
. Vasos served as Dollar General's CEO from 2015 until fall 2022, and he currently serves as a Senior Advisor and member of the Company's Board of Directors.
"I am deeply humbled by this prestigious recognition, which highlights the collective accomplishments the DG team made during my CEO tenure," shared Todd Vasos. "Our people, our culture, and our mission of
Serving Others
are what makes DG great. We have the best team in retail, and I am so honored that I have had and will continue to have the opportunity to be a part of it."
During the past four decades, Vasos demonstrated and proved his ability to lead, adapt and innovate. Most recently as Dollar General's CEO, he pioneered and implemented numerous initiatives that transformed the Company's ability to serve more customers and communities while remaining true to its culture and mission of
Serving Others
.
These include DG Fresh, the self-distribution of frozen and refrigerated goods; NCI, a non-consumable initiative that's in nearly all Dollar General stores today and inspired the Company's newest retail concept, pOpshelf; DG wellbeing initiatives including the Company's first Chief Medical Officer; DG Fast Track that increased labor productivity, enhanced customer convenience and further improved on-shelf availability; and a digital initiative that builds engagement and complements the Company's brick and mortar footprint, among others.
Vasos was named among
Mass Market Retailers
' list of Top 50 Executives in Mass Market Retailing in 2022, a Most Admired CEO by
Nashville Business Journal
in 2021 and received the Professional Achievement Award from his Western Carolina University alma mater in 2017. His leadership also propelled Dollar General to
Fortune
magazine's World's Most Admired Companies List in 2020 and 2022;
Forbes
Top 25 Corporate Responders to the Covid-19 Pandemic in 2020;
Mass Market Retailers
' Retailer of the Year in 2019 and 2020; and recognition by the Human Rights Campaign Foundation's Corporate Equality Index for its workplace inclusion efforts in 2020, 2021 and 2022.
The full article can be read
here
.