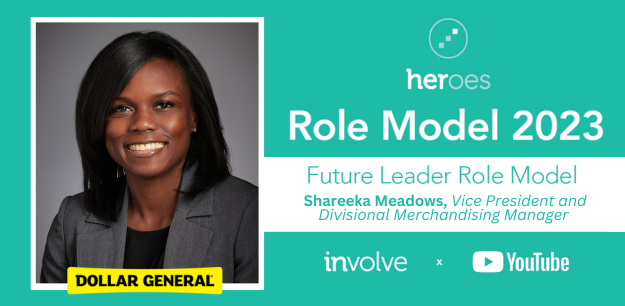 Dollar General announces
Shareeka Meadows
, DG's vice president and divisional merchandising manager, was recognized on the 2023 Heroes 100 Future Leaders Role Model
List
by Involve, which champions trailblazers across businesses driving positive change for women in business.
"Shareeka's inclusive leadership style and passion for embracing and celebrating diversity makes a meaningful and positive impact on the Company and her colleagues," shared Emily Taylor, Dollar General's executive vice president and chief merchandising officer. "We are grateful
Involve
recognized Shareeka's efforts to serve as an inspirational role model and intentionally live out DG's mission of
Serving Others
."
Supported by YouTube, the Heroes Future Leaders Role Model list features 100 women and aims to represent a range of impactful and innovative efforts supporting inclusion in the workplace across different countries, organizations and sectors. The recognition celebrates the diverse and inspiring individuals who have made it their personal mission to make a difference as leaders.