New Specialty Home Scent Line, Koze Place, Provides Premium Experience at Affordable Price
Feb 27, 2023
Koze Place Partners with World-Renowned Perfumers; Debuts Exclusively at Dollar General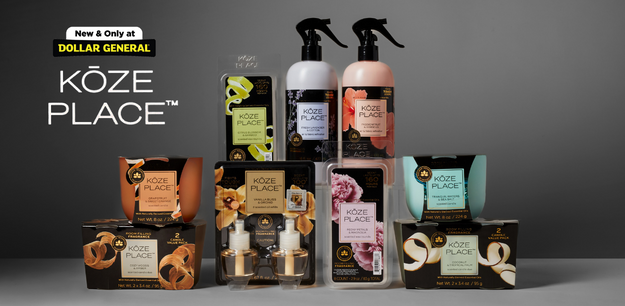 Maesa Inc. LLC has launched Koze Place, a new specialty home scenting experience available exclusively at Dollar General. Years in the making, Koze Place has partnered with world-renowned perfumers to create fragrances inspired by and extracted from nature to bring truly sensorial experiences into the home.
"Koze Place provides everything our customer is looking for at a value without any sacrifice to quality, aesthetic or experience," said Lauren Bowers, senior buyer of home cleaning at Dollar General. "We are excited to introduce this new and modern air care brand exclusively at DG."
At its core, Koze Place believes design is essential and that beauty and function are not mutually exclusive. With custom packaging elements developed specifically for the Dollar General shopper, Koze Place is truly committed to creating beautifully crafted scents and designs that transform your home into a sanctuary.
"We are thrilled to partner with Dollar General for the launch of an exclusive new brand developed with the DG consumer and their homes in mind," said Shana Turano, Director Marketing & Product Development at Maesa. "Koze Place fills a need for something premium and special in the mass air care aisle, while offering the quality and attainability of national brands. By delivering on the promise of value through beautifully crafted scents and designs, each Koze Place product was created to help transform your home into a sanctuary."
Koze Place is available in nine uniquely curated scents including Passionfruit & Hibiscus, Vanilla Bliss & Orchid and Fresh Lavender & Cotton that infuse exclusive scent technologies to keep your home fresh and clean smelling. The product line includes scented candles, wax melts, diffuser oils and air & fabric refresher sprays, all of which are paraben-free, phthalate-free, formaldehyde-free, lead-free and cruelty-free. Koze Place products are priced at $5 or less, proving that by putting the consumer first, it is possible to create a premium home scent experience that doesn't break the bank.
Koze Place will be available in more than 19,000 Dollar General stores in 47 states. For more information, please visit dollargeneral.com or follow Koze Place at instagram.com/kozeplace.
About Maesa
Maesa creates and manufactures exclusive beauty products. By combining creativity, entrepreneurial vision and proprietary resources, Maesa designs, develops and manufactures private label and exclusive brands for retailers as well as packaging and turnkey products for beauty brands. With expertise in branding and design, engineering, product development, manufacturing and logistics, Maesa specializes in fine fragrances, color cosmetics, personal care, home fragrance as well as primary and secondary packaging. Founded in 1997, Maesa has offices in New York, Los Angeles, Paris and Hong Kong and employs over 250 team members worldwide. More information can be found at www.maesa.com.