New & Affordable Sensitive Skin Care Brand, Joy Works, Brings JOY to Sensitive Skincare
Mar 28, 2023
Kao USA Launches Sensitive Skincare Brand; Debuts Exclusively at Dollar General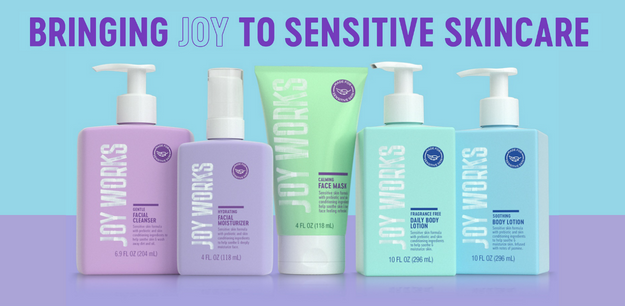 Kao USA, Inc. has teamed-up with Dollar General to launch Joy Works, a new sensitive skincare brand designed to create moments of joy.
Joy Works believes that great sensitive skincare products should be affordable and available for all. Having sensitive skin shouldn't stop you from feeling like the best version of yourself! Joy Works was designed to bring JOY to sensitive skin, delivering affordable products you are excited to use with formulas you can trust.
"Our mission of Serving Others includes providing value and convenience, while also delivering exceptional quality," said Amanda Wilson, beauty buyer at Dollar General. "We partnered with Kao USA to co-create a gentle formula, keeping the sensitive skin customer in mind. We are so excited to be able to offer this assortment to the DG customer."
Joy Works products are dermatologist-tested, cruelty-free, dye-free, vegan friendly, gluten-free and infused with prebiotic and skin conditioning ingredients to help soothe sensitive skin. Four of the five products within the lineup are fragrance-free, and the Soothing Body Lotion includes a sensitive skin-friendly fragrance. The brand is also focused on the environment – each bottle can be recycled!
"We are thrilled to be teaming-up with Dollar General to launch our sensitive skincare brand, Joy Works, bringing both premium quality and affordability to consumers," said Dani Ruffolo, Brand Lead for Joy Works at Kao USA, Inc. "As someone with sensitive skin, I know it can be challenging to find products that do not irritate my skin. With the help of Kao's decades of research on skin concerns, we developed Joy Works to provide affordable, transparent, and effective solutions for sensitive skin consumers."
Joy Works is available exclusively at Dollar General in more than 19,000 store locations. All five products are priced at $6 each and include: Gentle Facial Cleanser, Hydrating Facial Moisturizer, Calming Face Mask, Fragrance-Free Daily Body Lotion and a Soothing Body Lotion. For more information, please visit
joyworksbeauty.com
or follow Joy Works at
instagram.com/joyworksbeauty
.