Nature's Menu Earns Top Honors on 2023 Pet Innovation Awards List
Sep 14, 2023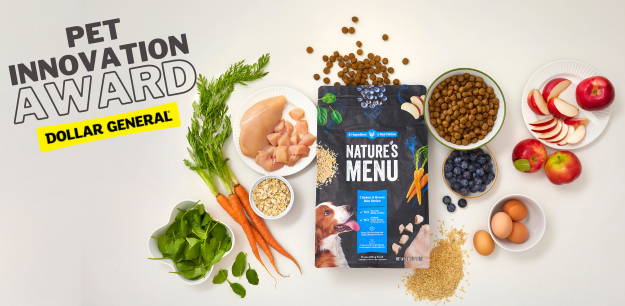 The Pet Independent Innovation Awards
recently recognized
Dollar General's
Nature's Menu
as Dog Food Dry Product of the Year in the Food & Treat category. The annual independent recognition platform highlights the most innovative companies, services and products in the highly competitive Pet Care industry.
"We are proud to offer this newly reformulated and rebranded super premium pet food line for Dollar General customers and are pleased by the initial reception and success of our offering," said Jackie Li, senior vice president of private brands and global sourcing at Dollar General. "We continue to listen to our customers and make investments in DG's private brands, bringing even more quality and affordable products to our shelves. Thank you to Independent Innovation Awards for recognizing those efforts and our Nature's Menu line."
The mission of the annual Pet Innovation Awards Program is to honor innovation and recognize excellence, hard work and success in a range of Pet Care industry categories including Apparel, Grooming & Cleaning, Food & Treats, Health, Housing, Toys, Training, Retailers & Services. The 2023 awards attracted more than 2,000 nominations from around the world.
"The winners of the 2023 program are truly at the forefront of innovation as they work to revolutionize and strengthen an industry that revolves around beloved members of our family – our pets," said Travis Grant, managing director of Independent Innovation Awards. "From the food we feed them to the way we bathe them to technology that makes them live longer, better lives, pet parents are becoming more discerning with the products and services they buy. This years' class represents a whole new level of ingenuity, and we couldn't be more pleased to recognize them for their hard work."
Nature's Menu dry pet foods are backed by a 100% satisfaction guarantee and are crafted with natural ingredients including real beef, lamb or farm-raised, cage-free chicken as the #1 ingredient. The pet foods also contain vegetables and wholesome grains and are enhanced with prebiotics and probiotics to help support healthy digestion with added vitamins, minerals and other trace nutrients including Omega 3 and 6 Fatty Acids for healthy skin and coats.