Michigan Public Health Week Partnership Presents Dollar General with Hometown Health Hero Award
Apr 18, 2023
Company Recognized for Produce, Philanthropy and Wellness Initiatives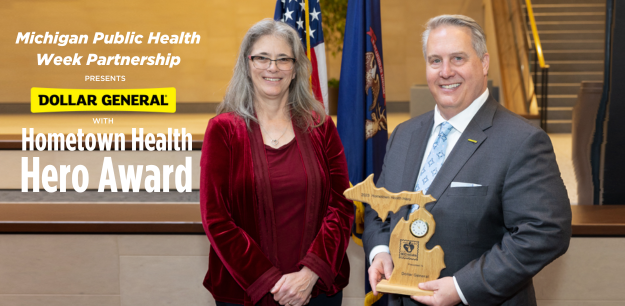 Michigan Public Health Week Partnership
presented Dollar General with its Hometown Health Hero Award for produce, philanthropy and wellness initiatives in the Great Lake State. The award recognizes individuals and/or organizations that made significant and measurable contributions to preserve and/or improve their community's health.
"We are grateful to
Michigan Public Health Week
for recognizing how DG stores serve as a positive resource to offer healthier options as we continue to support the well-being of residents in nearly 700 Michigan communities we call home," shared Steve Brophy, Dollar General's vice president of public policy and government affairs. "We understand Michigan households and families rely on DG to provide convenient and affordable access to daily items including nutritious foods, health and wellness offerings and more. We also help nourish those in need through our Feeding America partnership that provides financial and in-kind product donations, and we look forward to continuing to serve Michigan communities as a positive community neighbor."
The Company was recognized for the following initiatives aiding the state's health equity:
Produce Expansion
In an effort to increase affordable access to fresh fruits and vegetables, Dollar General continues to expand its produce offerings in current and new stores across the country. The Company added produce to 38 stores in Michigan in 2022, bringing the total to 91 stores, 11 of which are currently in USDA-defined food deserts.
Dollar General currently offers produce in more than 3,200 stores chainwide with plans to offer the set in more than 10,000 total stores in the coming years.
Feeding America and Food Donation Partnerships
Since 2021, Dollar General's partnership with Feeding America includes $2 million in financial donations, as well as continual in-kind product donations of perishable and nutritious foods. At full capacity, Dollar General seeks to provide up to 20 million meals each year through its Feeding America partnership, which helps alleviate hunger in its hometown communities it calls home and seeks to nearly double Feeding America's 2021 distribution network.
In Michigan, Dollar General partners with The Food Bank of Eastern Michigan in Flint, Forgotten Harvest in Detroit and Food Gatherers in Ann Arbor. Through these partnerships, the Company donated approximately 168,000 pounds of food in fiscal 2022, equivalent to approximately 127,000 meals.
Wellness Product Expansion
In July 2021, Dollar General announced plans to
increase access to health care products and services
to continue to meet more of its customers' needs and establish itself as a health destination. The expansion included an increased assortment of cough and cold, dental, nutritional, medical, health aids and feminine hygiene products across many of its DG stores. Since announcing the health and wellness expansion, approximately 140 Michigan DG stores in 114 communities have expanded offerings in the category.
Additionally, the Company's "
Better For You
" program reflects its commitment to give customers increased access to affordable and healthier foods, as well as make it easier to find options for eating well. DG partnered with a registered nutritionist and dietitian to develop healthier recipes with items available at every store. Better For You products are now available at more than 19,000 stores across the country.
In Michigan, Dollar General also partnered with SnapNurse to offer COVID-19 vaccines at select stores, furthering efforts to increase accessibility to the community.