Jackie Li and DG's Nature's Menu Featured on Store Brands' 2023 Game Changers List
Apr 17, 2023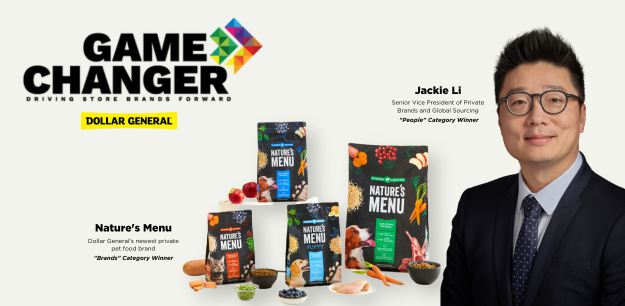 Store Brands'
2023 Game Changers List
recently recognized Dollar General in two categories including the
"People" category for Jackie Li
, Dollar General's senior vice president of private brands and global sourcing, and the "Brands" category for Nature's Menu, Dollar General's private pet food brand.
"Thank you to Store Brands for honoring our team's efforts to be a 'Game Changer' in the private brand space," said Jackie Li, Dollar General's senior vice president of private brands and global sourcing. "This work is reflected in the updated roster of recently created products and brands to provide customers with on trend and affordable options at extreme value. Our private brands team is proud to keep our customer at the center of all we do through an innovative mindset and our mission of Serving Others."
Store Brands'
annual Game Changers campaign recognizes people, brands and company innovations driving change in the private label industry.
About Jackie Li:
Li leads Dollar General's overarching private brand business including merchandising, sales, marketing, branding, and product development.
Since joining Dollar General in 2018, Li has also been responsible for company-wide global sourcing strategy as well as managing the company's global operation offices in Hong Kong, Shen Zhen, Shang Hai and satellite offices in Southeast Asia, Mexico, and Europe.
About Nature's Menu
Dollar General
announced
its reformulated and rebranded dog and cat food line,
Nature's Menu
, in March 2023. The line features dry pet foods crafted with natural ingredients including real beef, lamb or farm-raised, cage free chicken as the #1 ingredient.
Nature's Menu was developed in response to consumer insights seeking affordable, higher quality food for their pets and is made by a family-owned and operated company in the U.S.A. Additionally, the Company plans to debut a newly-reformulated Nature's Menu wet pet food in summer 2023.
To learn more about Dollar General private brands, click
here
.