Here for What Matters on Veterans Day and Year-Round
Nov 08, 2023
How A Dollar General Division Vice President Channels Her Military Skills on the Job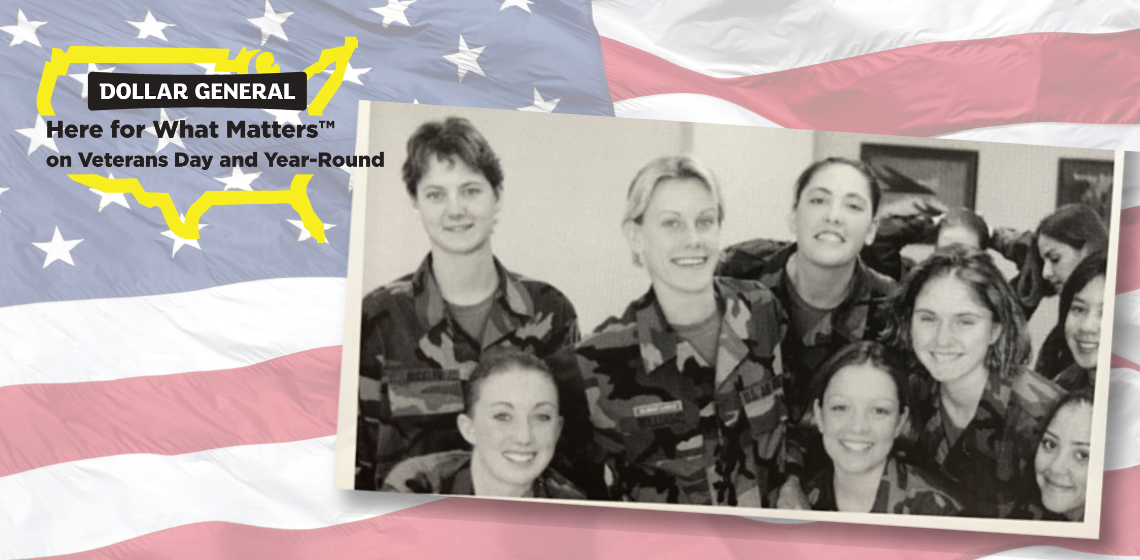 As a teen, Julie Martin, a Dollar General division vice president of store operations (DVP), couldn't have anticipated how much her military experience would shape her into the leader she is today. After turning 17 years old, Julie joined the Air Force where she served as a Medical Technician for six years in the Oklahoma Air National Guard. During her service, she also attended the University of Oklahoma, earning her bachelor of science while also working as a retail pharmacy tech.


"Both of my parents retired from the Air Force, so my upbringing shaped me into a servant leader," Julie shared.
In 2020, with 18 years of retail experience and a progression through management roles, Julie joined DG as a regional director serving store teams in Louisiana, Mississippi and Arkansas. In 2023, Julie was promoted to her current DVP role for the southeast where she now serves more than 2,100 DG stores across Florida, Georgia, Alabama and Mississippi.
As Dollar General's culture celebrates diversity, empowers the individual and fosters a true team spirit, Julie credits her military background in preparing her for a leadership role at DG. She believes it taught her valuable skills and lessons to help her and her peers succeed.
"My time in the Air Force gave me a healthy perspective of what truly matters. It taught me patience, resiliency, and mental toughness. It pushed me to do things outside my comfort zone that helped me grow as a leader," Julie shared. "I learned teamwork and the importance of keeping commitments."
SERVE Leadership
In addition to her DVP role, Julie leads DG's military-focused Employee Resource Group, SERVE, helping to foster a community that celebrates and supports Veterans and their families. This comes to life through networking events, specialized career coaching, and service opportunities like Memorial Day Flag planting, annual Veterans Day celebrations and Wreaths Across America. Julie works hard to ensure SERVE members feel welcomed and valued at Dollar General, sharing common ground with their work families and friends.
"I'm grateful for the sacrifices our brave military personnel make for all Americans, and I'm proud to lead the SERVE ERG as a small way to say, 'thank you.'"



<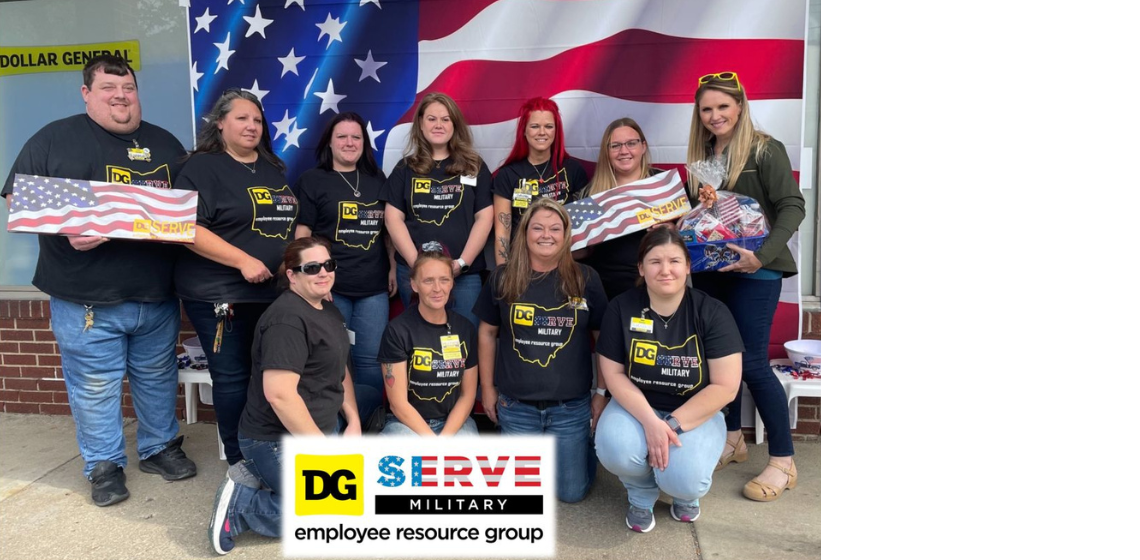 Above all, Julie says her military experience was about service, and she carries those lessons with her while leading teams and living Dollar General's mission of Serving Others. Her peers and leaders recognize and appreciate her passion and commitment – whether it's through SERVE, her direct reports, or the communities DG calls home.
"In my time leading Julie, I've witnessed how many of the skills that she acquired during her years of service translate to her leadership roles at Dollar General," says Jeff Mooney, Dollar General's senior vice president of store operations. "Julie shows compassion while also motivating her teams. She is very disciplined, focused and determined. She leads by example and believes in celebrating the success of others, and we are fortunate to have her on Team DG!"
DG's Veterans Day Support


Dollar General is proud to support active military and veterans, both in the workplace and in its hometowns. The Company was recognized by US Veterans Magazine as a 2023 Best of the Best Veteran-Friendly Company, marking DG's 9th year of inclusion on the list.
To further recognize the military community, DG is offering a 20% discount from November 9-12, 2023 on qualifying, in-store purchases to verified active military and veterans. This offer joins DG's ongoing 11% discount to military communities and their immediate families on the second Wednesday of each month.
To learn more about how Dollar General is Serving Others, visit https://hereforwhatmatters.com/.