Here for What Matters in Supplier Diversity
Oct 30, 2023
DG Awards Milo's Tea Company with 2023 Diverse Supplier of the Year Award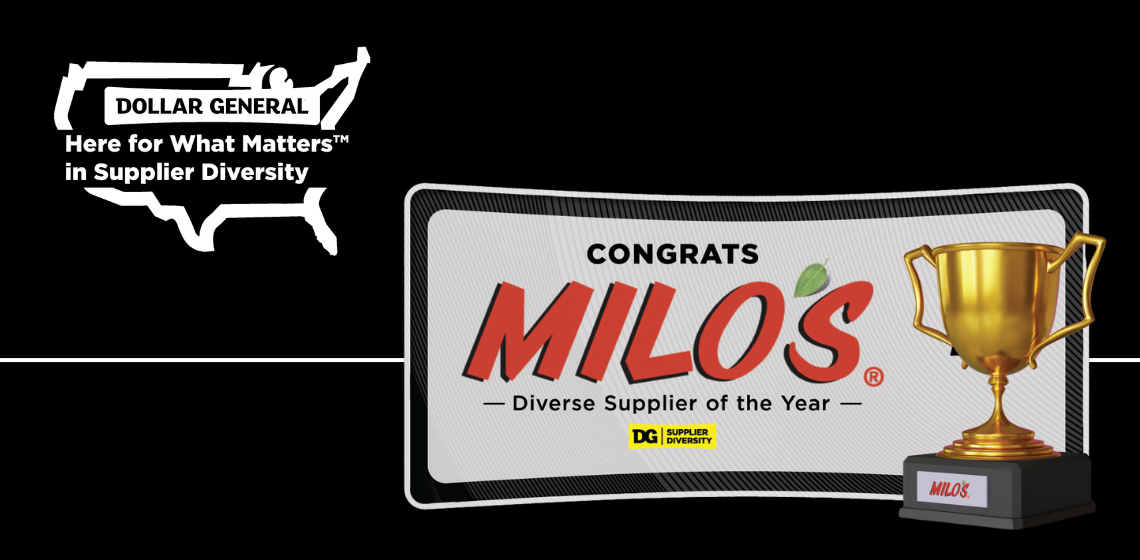 At Dollar General, our diversity is a strength we rely on to serve our customers, employees and communities. Together, we believe our differences make all the difference in building careers for employees and meaningful experiences for customers through relevant products.
As such, we are thrilled to announce Milo's Tea Company received our 2023 Diverse Supplier of the Year award recipient. Founded in 1946, Milo's Tea Company is a family-owned and certified women-owned business led by Tricia Wallwork, who is the granddaughter of the company's founders. Milo's tea and lemonade products are available at most Dollar General stores across the country.
"Congratulations to the Milo's TEAm on this recognition, which reflects their continued partnership and collaborative efforts," said Antoine Hinton, Dollar General's director of supplier diversity. "An intentional investment in supplier diversity reflects Dollar General's mission of Serving Others and core values that include 'respecting the dignity and differences of others.'"


About Our Diverse Supplier Program
At Dollar General, we help to increase the representation of diverse groups in the communities we serve. Our Supplier Diversity program centers on three key pillars of inclusive sourcing, processes and capacity building.
We categorize a supplier as diverse if they meet the following qualifications:
51% owned/operated by U.S. citizen who qualifies as:
• Minority
• Woman
• LGBTQ+
• Veteran (including disabled veteran)
• Disability
And one of the following third-party certifications:
· National Minority Supplier Development Council (NMSDC)
· Certified Women's Business Enterprise (WBENC)
· National LGBT Chamber of Commerce (NGLCC)
· National Veteran-Owned Business Association (NaVOBA)
· Disability:IN
The Dollar General supplier diversity team continues collaborative conversation with partners to help build customer loyalty, offer relevant products, and positively contribute to local communities.
For additional information on Dollar General's supplier diversity initiative, please visit https://www.dollargeneral.com/ch/landing-page/dg-supplier-diversity.

About Dollar General Corporation
Dollar General Corporation (NYSE: DG) is proud to serve as America's neighborhood general store. Founded in 1939, Dollar General lives its mission of Serving Others every day by providing access to affordable products and services for its customers, career opportunities for its employees, and literacy and education support for its hometown communities. As of August 4, 2023, the company's 19,488 Dollar General, DG Market, DGX and pOpshelf stores across the United States and Mi Súper Dollar General stores in Mexico provide everyday essentials including food, health and wellness products, cleaning and laundry supplies, self-care and beauty items, and seasonal décor from our high-quality private brands alongside many of the world's most trusted brands such as Coca Cola, PepsiCo/Frito-Lay, General Mills, Hershey, J.M. Smucker, Kraft, Mars, Nestlé, Procter & Gamble and Unilever. Learn more at DollarGeneral.com.