Here for What Matters in Mississippi and Oklahoma
Sep 22, 2023
Reader's Digest Spotlights Employees Exemplifying Service and Kindness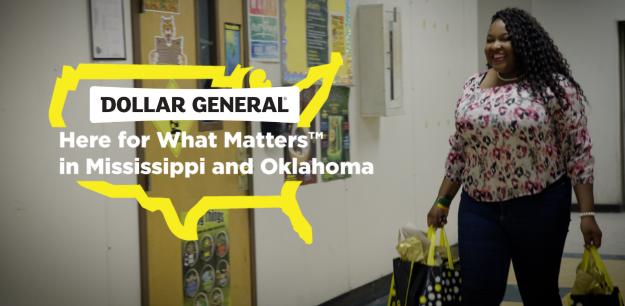 At Dollar General, our mission of
Serving Others
serves as the cornerstone of our culture and the foundation on which all decisions are made, including how we provide
affordable essentials
and meaningful career opportunities, as well as serve as good neighbors in hometown communities.
This week, Reader's Digest is helping shine a light on two DG employees,
Joi Bass
and
Johanna Sampson
, who help further fuel DG's mission by volunteering time and demonstrating compassion to care for others in their communities.
Keeping It Cute with Joi
For Joi Bass, giving back and serving her community is a family tradition shared among her mother, aunts and sorority sisters. When she moved to Indianola, Mississippi in 2021, Joi reached out to the local school to see how she could support her community and learned the greatest necessity was feminine care products for students in need. After learning that
one in four girls misses school d
ue to lack of access to feminine hygiene products, Joi knew she could help and immediately jumped into action.
Joi created her "Keep it Cute" shelf, which is named after an aunt's favorite phrase, for area middle and high schools and stocked underwear, pads, tampons, and other feminine hygiene products. To extend support, Joi partnered with other area schools to set up "Keep it Cute" shelves at additional schools and provide essential goods beyond feminine care products.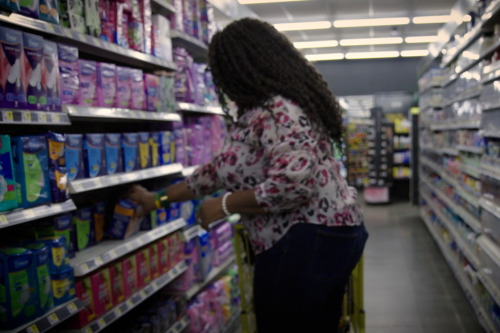 "If you have the opportunity provide and be of service, I know that one day I might not have it and someone else will be able to lend me a hand," says Joi.
Dollar General has also supported her efforts with product and financial donations through employee recognition programs, including DG Kindness. Also, Dollar General distribution centers across the country were encouraged to adopt a homeless shelter or women's shelter to provide feminine hygiene products to women in need as part of March 2023's Women's History Month celebrations.
"Dollar General's focus being
Serving Others
just really stuck with me because, I'm like 'That's all I do. That's all I know,'" shared Joi. "It's been great to have Dollar General as a partner in that way, to not only come to work every day for a great company, but they also support my personal initiatives."
The Because Kindness Matters page and videos are available here
.
Mentoring with Johanna at The Landing Bridge
Near DG's Ardmore, Oklahoma distribution center, Johanna embodies the Company's mission of
Serving Others
through an organization changing the lives of so many – including her own. After seeking ways to get more involved in her community, Johanna learned about a call for volunteers at The Landing Bridge, a nonprofit providing support for at-risk youth in Ardmore. She knew it was something she wanted to be part of, although she wasn't aware of the impact it would make on her personally.
"The kids really did help restore my faith," Johanna shared. "They have been through unspeakable things and still have a huge capacity to love and to be open and to learn how you can interact with people and trust them again."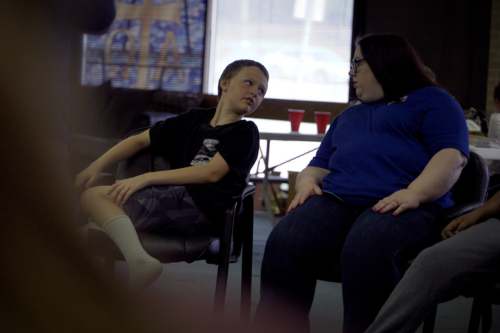 Through donations from various organizations, including Dollar General, The Landing Bridge regularly provides food, clothes, blankets, everyday essentials and hygiene products youth recipients. They rely on volunteers like Johanna and her colleague, Jason, for mentorship. They additionally support students as a source of comfort and familiarity. Johanna and Jason also provide an extra listening ear for thoughts, concerns and dreams.
"If I had to pick a favorite aspect of The Landing Bridge, it would probably have to be how amazing this organization is at serving these kids. That's really our only mission - to serve these children," shared Johanna.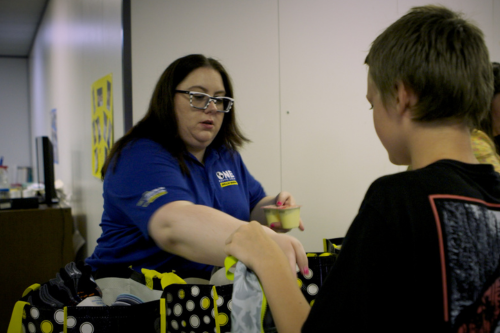 For more information on how DG is continuously
Serving Others
in its hometown communities, visit hereforwhatmatters.com.