How DG's Economic Investment and Impact Serves the Community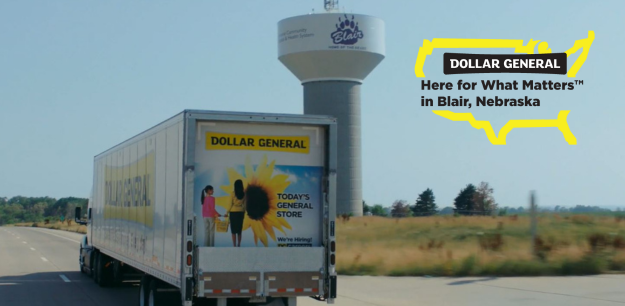 Blair, Nebraska is a small town of less than 8,000 people. North of Omaha, Blair is surrounded by rolling hills that are covered with corn fields in the summer and Midwest snow in winter. Here, residents say everyone knows everyone and hometown support is strong.
While community pride is ever present, quality employment opportunities near home are not, which means many Blair residents left town to work elsewhere. That is, until Dollar General announced plans to build its first ground-up, dual distribution facility in town, representing an approximate $140 million economic investment and creation of more than 400 jobs.
The Blair community was already familiar with DG through its local store, which has been serving the community since 1993. The addition of the distribution center and Private Fleet presence now provides additional avenues to invest in and help grow Blair's economy.
"Over time with the DC coming into town, I've seen more houses being built. I see growth in the community," said Kyla Dillenburg, Blair native and current distribution center employee.
The Company's investment is also evident with state and local leaders advocating for business in the greater Omaha community.
"Nebraska's hard-working people, central location, and quality roads make our state a great hub for companies moving their products across America," said Nebraska Governor Jim Pillen. "Thank you to Dollar General for choosing to invest in Nebraska and for creating more than 400 new jobs in Blair."
Adrienne Cavill, former director of Gateway Development at the Greater Omaha Chamber, echoed Governor Pillen's comments, sharing, "Dollar General is really raising the bar and engaging with the community, being a thought partner on community development projects and what that looks like for the future growth and success of Blair and Washington County at large."
In everything DG does, it is committed to its mission of "Serving Others" and remains excited to continue thriving alongside the Blair community as it generates jobs and creates career opportunities for employees.
Learn more about how DG supports local communities, employees and customers at hereforwhatmatters.com.