Here for What Matters During Hunger Action Month and All Year Long
Sep 28, 2023
How DG is working to address food insecurity with support from partners, employees and communities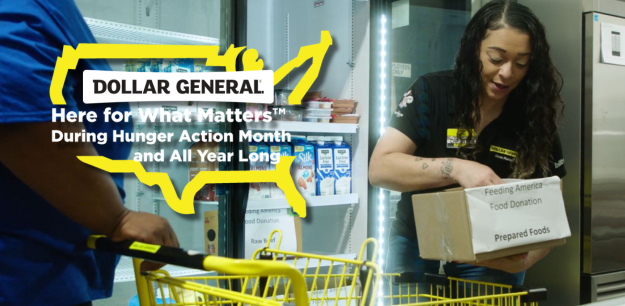 In the U.S.,
34 million people
are food insecure and more than a quarter of them are children. While every community faces food insecurity, rural communities bear the heaviest burden with a lack of retail options for food.
While Dollar General is not a grocer, the Company cares about and is invested in the well-being of the nearly 20,000 communities it serves. Today, approximately 75% of Americans are within five miles of a DG, often in communities where other retailers cannot or will not serve. With its expansive store footprint across 47 states, Dollar General is uniquely positioned to combat hunger by offering convenient access to a variety of nutritious foods at affordable prices.
During Hunger Action Month, Dollar General is spotlighting several avenues in which the Company is addressing food insecurity.
FEEDING AMERICA PARTNERSHIP
Since 2021,
DG has partnered with Feeding America
, the nation's largest hunger-relief organization, to donate more than $3 million as well as in-kind food donations, providing more than 13.4 million meals and seeks to contribute up to 20 million meals each year at full operational capacity. A few examples of the collaborative work between DG and Feeding America to date include:
Atlanta Community Food Bank
In 2021, Dollar General piloted its Feeding America partnership in the Atlanta, Georgia market, which included weekly food donations from DG stores and distribution centers to the Atlanta Community Food Bank to support neighbors in need throughout the greater Atlanta region.
The success and learnings from Atlanta's pilot program supported DG's expansion to other communities, ultimately providing the equivalent of more than 3.7 million meals to Feeding America affiliates in 2021.
Helping Hands of Kilgore, Texas
DG and Feeding America, alongside partnerships including ArtSkills, the Kellogg Company and Helping Hands of Kilgore, distributed meals and 200 take-home art kits for children in Kilgore, Texas. Together, the event aimed to address food insecurity and encourage kids to explore artistic talents. DG distributed gift bags with snacks and DG gift cards for groceries, alongside a monetary donation to the local food bank to support those unable to attend the event.
Second Harvest Food Bank
DG's work helps encourage and enable others to pay it forward. In West Tennessee, DG provided through
Second Harvest Food Bank of Middle Tennessee
multiple freezers, shelving and a steady supply of food donations for the local church's community food bank. This allowed Ray, a volunteer and member of Pleasant Hill Methodist Church and a staunch community supporter, to have the necessary resources to provide meals to neighbors in need on a consistent basis.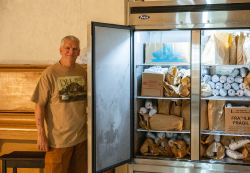 "I love dropping off food to kids," Ray shared. "As soon as I get there, they grab an apple from the box and get a glass of milk. These kids don't get many treats, and so that is important for them."
As DG continues to address food insecurity during Hunger Action Month and beyond, those who want to get involved are encouraged to visit
Feeding America's website
or seek other volunteer opportunities at their local food bank.
LOCAL FOOD BANKS
In Columbia, Missouri, DG leaders came together and volunteered at the Food Bank of Central and Northeast Missouri. Working together to sort and stock pallets of food and vegetables, the team's efforts resulted in one week of meals for more than 400 families in the area.
"To be able to donate our time and see the impact our work has on the families that shop our stores makes me so proud," said Store Manager Debbie Zarate.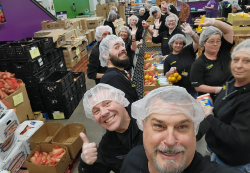 The team's district manager added that the activity not only energized his store manager team, but it also reinforced why they work so hard to serve their hometown communities and local customers.
To honor the team's service, Dollar General's
DG Kindness program
awarded $1,000 to the Food Bank for Central and Northeast Missouri whose outreach provides food to more than 100,000 people monthly across 32 counties.
HUNGER HEROES
Dollar General's mission of Serving Others is the foundation on which the Company was founded and continues to serve as a guiding force. Additionally, employees throughout the Company's store, distribution center, Private Fleet and corporate offices embody this mission in their personal lives, and seek to serve their communities by volunteering at local food banks, donating to local organizations and using their own resources to lend a helping hand to neighbors.
Read about two DG employees, Brian Vannoy of New Castle, Pennsylvania, and Rebecca Crafton of Elberta, Alabama, and how they are impacting their local communities as
Hunger Heroes
.
To learn more about how DG is helping the communities it serves, visit
hereforwhatmatters.com
.
About Dollar General Corporation
Dollar General Corporation (NYSE: DG) is proud to serve as America's neighborhood general store. Founded in 1939, Dollar General lives its mission of Serving Others every day by providing access to affordable products and services for its customers, career opportunities for its employees, and literacy and education support for its hometown communities. As of August 4, 2023, the company's 19,488 Dollar General, DG Market, DGX and pOpshelf stores across the United States and Mi Súper Dollar General stores in Mexico provide everyday essentials including food, health and wellness products, cleaning and laundry supplies, self-care and beauty items, and seasonal décor from our high-quality private brands alongside many of the world's most trusted brands such as Coca Cola, PepsiCo/Frito-Lay, General Mills, Hershey, J.M. Smucker, Kraft, Mars, Nestlé, Procter & Gamble and Unilever. Learn more at DollarGeneral.com.