Dollar General Recognizes National Employee Appreciation Day
Mar 03, 2023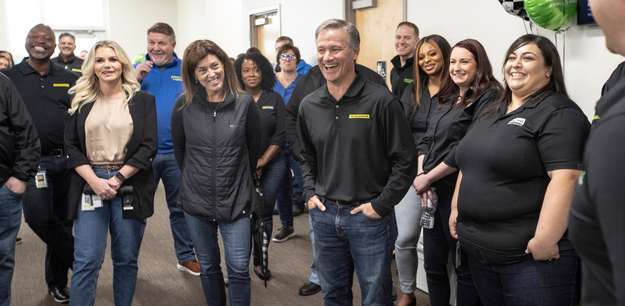 At Dollar General, our mission of
Serving Others
is brought to life everyday through our employees' actions to support communities, customers, neighbors and each other. On National Employee Appreciation Day, Dollar General is recognizing and celebrating our diverse teams who are at the heart of the Company by spotlighting four recent DG Kindness award recipients.

"I'm honored to recognize more than 173,000 colleagues across Dollar General's stores, distribution centers, private fleet and Store Support Center as we celebrate National Employee Appreciation Day," shared Kathy Reardon, Dollar General's executive vice president and chief people officer. "At Dollar General, we consciously strive to foster an environment where employees feel valued and engaged in our purpose-driven mission and empowered to grow their careers through differentiated development. We are grateful and appreciative for our teams who continue to serve our customers and communities, and we are excited to celebrate the entire DG family both today and every day!"
DG Kindness Employee Spotlights
Dollar General's DG Kindness campaign launched in 2020 and recognizes employees' positive impacts and how they embody the Company's mission of
Serving Others
in communities across the country. For each DG Kindness recognition, Dollar General makes a $1,000 donation to the nonprofit of the employees' choice in their honor. Since its inception three years ago, the DG Kindness campaign has awarded $66,000 to support employees' charitable work to extend our mission.
Four recent employees recognized by the DG Kindness campaign include:
Jeanette G., Store Manager and Shana B., Assistant Store Manager
New Port Richey, Florida
Store Manager Jeanette G. and Assistant Store Manager Shana B. in New Port Richey, Florida recycled used Dollar General shopping bags to help our environment and their community. The recycled bags are given to a local nonprofit,
Hands of the Goddess,
to create blankets and tote bags for homeless residents.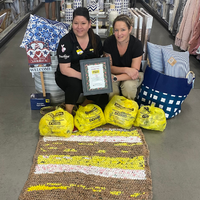 "The Dollar General team members in New Port Richey understand that serving our community means so much more than what we offer customers at our storefront," shared Jeanette. "Our team was thrilled to help provide the $1,000 DG Kindness donation to aid Hands of the Goddess' efforts. These funds will help volunteers purchase food and toiletries to place in the repurposed tote bags!"




Mike W., Maintenance Manager, Store Support Center
Goodlettsville, TN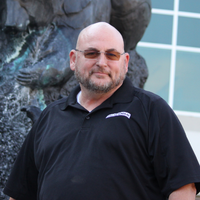 For the past 12 years, Mike W. and his local church members have supported various disaster efforts in Lynch and Harlan Counties in Eastern Kentucky. It's not uncommon for Mike to use his personal vacation days to host a trip once or twice a year.
"I couldn't think of a better way to spend time away from work. Helping others brings joy to my heart," shared Mike. "We help to rebuild people's lives when they lost everything. Our mission is to help bring back normalcy and to share the love of God. I am blessed to work for Dollar General and for them giving me the time to help people in need."
Mike and his church members' efforts were especially impactful following the July 2022 flooding that devasted communities across east Kentucky. The teams shoveled mud, mucked houses, removed fallen trees, hauled away trash and debris, hung drywall, built decks and addressed overall maintenance needs.
As a result of Mike's acts of compassion , Dollar General awarded $1,000 to
Heritage Ministries
to further their ability to mobilize help when storms impact communities.
Marcus M., Fresh Distribution Center Warehouse Supervisor II
Montgomery, AL
Marcus M. recently received the prestigious award of Volunteer of the Year by his local YMCA for his outstanding service and work with the youth in his community.
The recognition reflects Marcus's leadership of "The Big Brown Bus" initiative, which provides a bus that goes into neighborhoods in need to feed more than 175 children each day. Additionally, he works closely with local high school students to provide a safe space and support.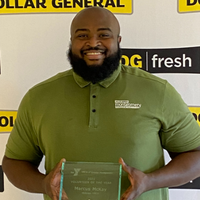 Dollar General awarded $1,000 to Marcus' local YMCA to aid the organization in their efforts to providing comprehensive programs and services that enrich communities across the country.
"Developing and being available for our young people is my priority," shared Marcus. "They are our future. The $1,000 donation will go a long way to help with the YMCA tutoring and after-school program support."
Angela C., IT Senior Business Analyst, Store Support Center
Goodlettsville, TN
Angela C. has not only been serving Dollar General's IT and Finance divisions for more than 16 years, but her hometown community in Crestview, Florida. As a volunteer for
Dinner at Dad's Compassionate Ministries, Inc
., Angela works to plan and serve nutritious meals along with her church and community partners to those who need it most.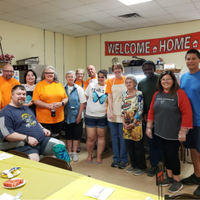 "I believe that every human being deserves to be treated with kindness, love and dignity," shared Angela. "This ministry was founded because we want those that we serve meals to feel like they are coming home and eating with family."
The $1,000 award provided through DG Kindness will help provide warm, home-cooked meals, hygiene products and school backpacks for those in need in the Okaloosa County community.
________________________________________________________________
Additionally, Dollar General is highlighting ongoing employee initiatives including:
Dollar General Employee Assistance Foundation (DGEAF)
When the unthinkable happens to a member of the Dollar General family, the
DG Employee Assistance Foundation (DGEAF)
is there to help by providing financial support for employees facing unprecedented hardships. Since its founding in 2005, the Dollar General Employee Assistance Foundation has awarded more than $16 million helping more than 9,600 employees.
Award-Winning Training and Development Programs
The Company continues to work to provide a pathway for career advancement within the organization, evidenced by the fact that approximately 75 percent of store leadership is promoted internally.
Dollar General offers various programs and initiatives to invest in long-term career growth opportunities for employees such as its recent partnership with Workforce Edge to provide full-time employer-paid degree programs for full time employees and access to Sophia Learning for all DG employees and their immediate family members.
Dollar General was recently recognized by
Training magazine
for the Company's outstanding training initiatives, further building on DG's history of more than 10 consecutive years of inclusion on the publication's Top 100 list and being named to the Training Hall of Fame in 2021.
Additional Benefits
DG invests significant resources in programs focused on employees' well-being including day-one telemedicine eligibility, debt-free degree programs and education options and the Dollar General Employee Assistance Foundation. Additionally, health insurance coverage and wellness options, chronic condition management, mental health resources, 401(k) savings and retirement plans, paid parental leave and adoption assistance are available to eligible employees.
Join Our Team!
Anyone interested in joining the DG family can learn more about current career opportunities and apply online at
https://www.dollargeneral.com/careers
.