Dollar General Puts 'Food First' Through Investment in Private Brands
Jul 25, 2023
Expansion of DG's Private Brand Clover Valley Provides More Affordable, Innovative Options, Satisfaction Guarantee to Customers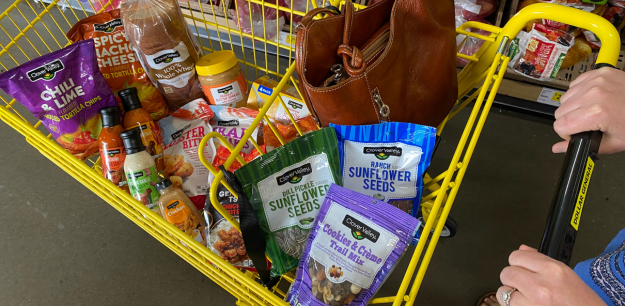 Dollar General (NYSE: DG) is expanding its private label brand, Clover Valley, to include new on-trend national brand alternatives, debuting more than 100 new items for 2023 including a wider selection of sauces, condiments, entrees, sides, snacks and more at affordable price points with many featuring stylish new packaging designs
"We have made significant enhancements to our private brands in 2023, and we know how important these value offerings are for our customers," said Emily Taylor, executive vice president and chief merchandising officer at Dollar General. "We believe these products will further differentiate Dollar General in the marketplace as we look to provide our customers with tremendous value on quality products."
Introduced in 2009, Clover Valley has expanded to include approximately 600 items. Examples of the latest additions include Lobster Bites; Crab Cakes; Chicken Dipping Sauce; Siracha Chili Sauce; Parmesan Garlic, Mild Buffalo and Medium Wing Sauces; Cookies 'n Crème and Turtle Sundae Trail Mixes; BBQ, Dill Pickle or Ranch Sunflower Seeds; Spicy Nacho Cheese or Chili & Lime Rolled Corn Tortilla Chips; Mandarin Orange or General Tso's Chicken Bites with Rice; Black Bean & Corn Salsa; Berry Blast or Tropical Fruit Flavor Snacks; Peanut Butter & Jelly Wafer Sticks & Dip; Peanut Butter Spread with Honey and 100% Whole Wheat Sandwich Bread. Additionally, all Clover Valley products come with a 100% satisfaction guarantee.
"When Dollar General pioneered the 'dollar store' format in 1955, few food products were offered. With continual growth and changes to the Company's business model, our product selection has evolved," said Jackie Li, senior vice president of private brands and global sourcing. "Customers shared that they believe in the quality and equity of Clover Valley and were receptive to more innovative products. We have put 'Food First' this year because we see a need and to fulfill the desire for even more options."
Dollar General's 'Food First' initiative is a broader strategy to provide customers with healthier options including more food products and fresh food. While not a grocer, approximately 80% of DG stores serve communities of 20,000 or fewer people with many Americans, especially in rural areas, relying on the retailer for their basic, everyday and household essentials.
Recently, consumables accounted for approximately 80% of total sales at DG and the Company's research indicates that DG offers a price advantage over most food and drug retailers, with prices that are competitive with even the largest discount retailers. Dollar General recently announced that 80% of new stores and nearly all store relocations for FY23 will be in one of DG's larger store formats, which provides the opportunity for a significant increase in cooler count, as well as the ability to add fresh produce in many stores. As of Q1 2023 DG offers fruits and vegetables in nearly 3,900 stores with plans to have produce in 5,000 locations by January 2024, giving the Company more individual points of produce distribution than any other U.S. mass retailer or grocer.
#
High-res photos for media use are available
here
.