Dollar General Named to America's Greatest Workplaces for LGBTQ+ 2023 List by Newsweek and Plant-A-Insights Group
Apr 28, 2023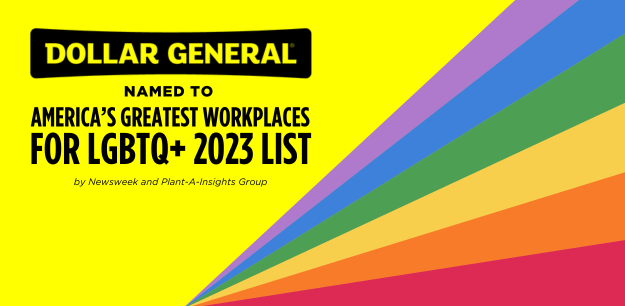 Dollar General was recently recognized among the
2023 America's Greatest Workplaces for LGBTQ+ List
by
Newsweek
and Plant-A-Insights Group for its efforts to promote an inclusive and supportive workplace environment.
"We are honored to be recognized for our continued efforts in supporting our LGBTQIA+ colleagues and community," said Dr. Johné Battle, Dollar General's chief diversity officer. "At Dollar General, our mission of
Serving Others
includes everyone, and we remain committed to recognizing, promoting and celebrating the unique differences each of us bring as that makes us stronger as a community and as a DG family."
Dollar General demonstrates inclusion through the Company's Employee Resource Groups (ERGs), which are each organized around a chosen commonality, work to leverage differences, promote awareness, provide a stronger connection to our hometown communities and build a more inclusive culture consistent with Dollar General's mission and core values. This is highlighted by the EQUAL, which is dedicated to promoting awareness and building mutual trust and respect for LGBTQIA+ team members and allies.
In partnership with Plant-A-Insights Group,
Newsweek's
ranking of America's Greatest Workplaces for LGBTQ+ 2023 identified the top 300 companies in the United States that created an inclusive and supportive workplace. The ranking is based on over 57,000 company reviews from employees who are working for companies that employ at least 1,000 employees, across all industries, and belong to the LGBTQ+ group.
Learn more about the Company's diversity and inclusion efforts at:
https://careers.dollargeneral.com/diversity-inclusion/
.