Dollar General Literacy Foundation Lights Nashville Bridge During 30th Anniversary Celebrations
Oct 18, 2023
To officially commemorate 30 years of supporting literacy and education, the Dollar General Literacy Foundation (DGLF) recently lit the Korean War Veterans Memorial Bridge in "DG Yellow" in Nashville, Tennessee. The bridge lighting helps shine a light on the Foundation's efforts since 1993 to support nearly 20 million individuals with awarding more than $238 million across the country to more than 23,000 organizations, schools and libraries.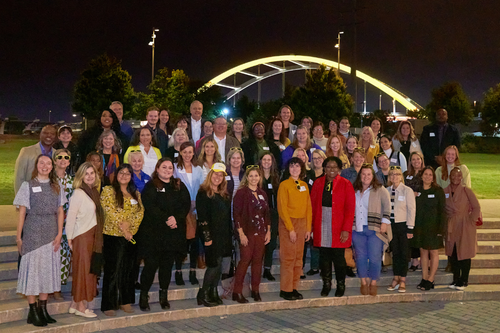 30th Anniversary Celebrations
Throughout 2023, the DGLF has celebrated its historic milestone through donations, events and activities that further strengthen its commitment to creating a meaningful and positive impact on increasing access to a quality education for students of all ages.
Thus far, these celebratory initiatives have included:
$13M in Adult, Summer and Family Literacy Grant Recipients
$1M Donation to Dolly Parton's Imagination Library
$1.7M Donation to Save the Children
2.6M in Youth Literacy Grant Recipients
2M to Learning Ally, Reading is Fundamental and The Barbara Bush Foundation
On Track to Read" event with Dale Earnhardt Jr. and Unilever US
Additionally, the Foundation also recently completed its fourth annual The Yellow Glasses Project, a fundraising and awareness campaign to highlight literacy and its role in creating brighter futures. Benefitting the DGLF and while supplies lasted, yellow sunglasses were available for purchase at all Dollar General stores for $2 each.
Earlier this year, Dollar General also helped the DGLF celebrate the anniversary through surprising three California schools with a collective $90,000 in literacy grants, which included $30,000 each to Elim Elementary School, Hilmar Elementary School and Los Banos Elementary School. Additionally, in partnership with Reading Is Fundamental, the Company also provided three new books for each student, totaling more than 5,400 books, to add to personal library collections and encourage their love of reading.
The presentations included a special book reading from Dollar General's executive vice president of store operations, Steve Sunderland, and more than 60 DG employees from local stores and the Company's Store Support Center in Goodlettsville, Tennessee attended to help students in choosing their books.



About the Dollar General Literacy Foundation and Grant Programs
The DGLF was founded in 1993 by Dollar General's former CEO, Cal Turner, Jr. in honor of his grandfather and Dollar General co-founder, J.L. Turner, who was functionally illiterate. The DGLF continually supports schools, libraries and non-profit organizations and their efforts to enhance quality classroom instruction, increase access to literacy programming, advance innovation and inspire the joy of reading through its grant programs.
The DGLF will begin accepting grant applications to support adult, family, youth and summer literacy programs within a 15-mile radius of a Dollar General store or distribution center in early 2024 at www.dgliteracy.org.
In 2006, the Foundation also created the Beyond Words grant program that has been a beacon of hope for school libraries destroyed or severely impacted by a natural disaster. Since the program's inception, the DGLF has provided financial support to rebuild, reestablish and/or expand library resources through awarding more than $2.9 million in grants, impacting nearly 123,000 students in 32 states.
About Dollar General Corporation
Dollar General Corporation (NYSE: DG) is proud to serve as America's neighborhood general store. Founded in 1939, Dollar General lives its mission of Serving Others every day by providing access to affordable products and services for its customers, career opportunities for its employees, and literacy and education support for its hometown communities. As of August 4, 2023, the company's 19,488 Dollar General, DG Market, DGX and pOpshelf stores across the United States and Mi Súper Dollar General stores in Mexico provide everyday essentials including food, health and wellness products, cleaning and laundry supplies, self-care and beauty items, and seasonal décor from our high-quality private brands alongside many of the world's most trusted brands such as Coca Cola, PepsiCo/Frito-Lay, General Mills, Hershey, J.M. Smucker, Kraft, Mars, Nestlé, Procter & Gamble and Unilever. Learn more at DollarGeneral.com.