Dollar General, Dollar General Literacy Foundation and Unilever USA Host "On Track to Read Event" with Dale Earnhardt Jr.
Oct 11, 2023
Dollar General Surprises Wilkes County School District with $50,000 Literacy Grant; Student Book Reading and Teacher Ride-Alongs at North Wilkesboro Speedway
Dollar General, the Dollar General Literacy Foundation (DGLF) and Unilever USA recently partnered at North Wilkesboro Speedway to give back to Wilkes County schools through the "On Track to Read" event with NASCAR Hall of Fame driver and children's book author,
Dale Earnhardt Jr.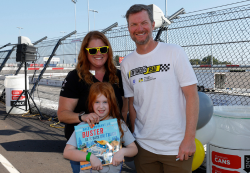 Held as part of DGLF's 30th anniversary celebrations, the event included a surprise $50,000 donation from Dollar General's Reading Revolution grant program to the Wilkes County School District and giveaways to teachers and students, as well as a book reading and teacher ride-alongs by Earnhardt Jr.
"Dollar General and the Dollar General Literacy Foundation are proud to join efforts with Unilever USA and Dale Earnhardt Jr. to help support Wilkes County schools," shared Denine Torr, executive director of the DGLF and Dollar General's vice president of corporate social responsibility and philanthropy. "This special event was about spreading joy, showing gratitude and creating an excitement about reading. Through our collective efforts and funding, we hope to enhance literacy programming and inspire the love of reading for students in the Wilkesboro community."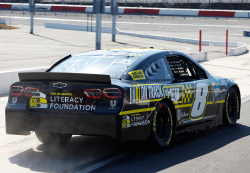 At the speedway, DGLF and Unilever USA hosted students and teachers from C.C. Wright Elementary School, North Wilkesboro Elementary School and Wilkesboro Elementary School. More than 300 attending students also received a copy of Buster Gets Back on Track by Earnhardt Jr. Additionally, all Wilkes County School District teachers and staff received a Unilever coupon book and DG gift cards to support the purchase of supplies and materials for their classrooms.
"I cannot thank Dollar General, the DGLF, Unilever USA and Dale Earnhardt Jr. enough for what they did for our students and staff," shared Mark Byrd, Wilkes County Schools Superintendent. "The funds from DG mean a lot; the experience means mor. I look forward to seeing the meaningful impact this will have on the Wilkesboro community."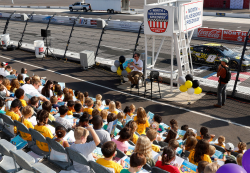 Dollar General, DGLF and Unilever USA have a longtime partnership with Earnhardt Jr. focused on helping increase access to quality education through supporting, funding and advocating for teachers and students across the country. The partnership most recently generated the
Story Time
online video series to promote the DGLF's
The Yellow Glasses Project
.
Since its inception in 2013, Dollar General's Reading Revolution program has awarded more than $4.4 million to more than 120 schools. Administrators may use the funds at their discretion to purchase books, technology programs, computers and/or other education supplies or resources needed to advance literacy gains.
About Dollar General Corporation
Dollar General Corporation (NYSE: DG) is proud to serve as America's neighborhood general store. Founded in 1939, Dollar General lives its mission of Serving Others every day by providing access to affordable products and services for its customers, career opportunities for its employees, and literacy and education support for its hometown communities. As of August 4, 2023, the company's 19,488 Dollar General, DG Market, DGX and pOpshelf stores across the United States and Mi Súper Dollar General stores in Mexico provide everyday essentials including food, health and wellness products, cleaning and laundry supplies, self-care and beauty items, and seasonal décor from our high-quality private brands alongside many of the world's most trusted brands such as Coca Cola, PepsiCo/Frito-Lay, General Mills, Hershey, J.M. Smucker, Kraft, Mars, Nestlé, Procter & Gamble and Unilever. Learn more at DollarGeneral.com.