Dollar General Continues Employee Recognition Through DG Kindness Campaign
Nov 13, 2023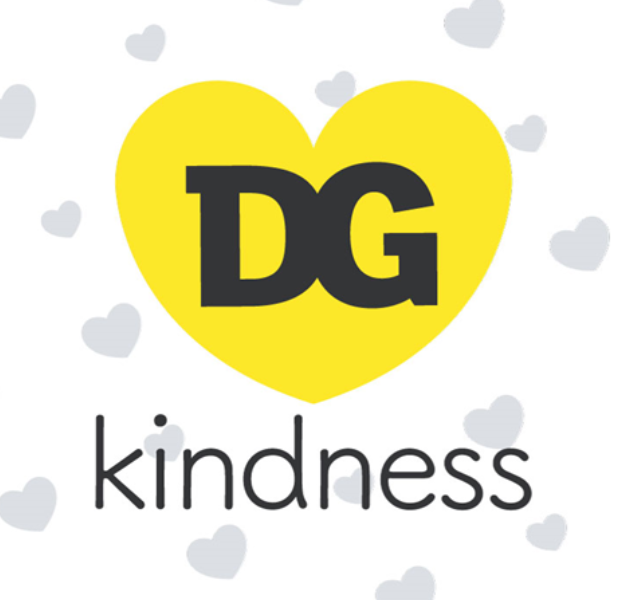 To highlight our employees' commitment to our mission, the DG Kindness campaign launched in
2020
to recognize employees' positive impacts across the country.
At Dollar General, our mission of
Serving Others
creates and cultivates a united sense of purpose to serve communities, customers and each other. To highlight our employees' commitment to our mission, the DG Kindness campaign launched in
2020
to recognize employees' positive impacts across the country.
Each DG Kindness recipient receives a $1,000 donation to the nonprofit organization of their choosing on behalf of Dollar General and are nominated by fellow employees who recognize their colleagues' efforts and charitable work.
"It is an honor to hear and share our teams' stories that make meaningful differences in Dollar General's hometown communities," shared Denine Torr, Dollar General's vice president of corporate social responsibility and philanthropy. "The DG Kindness campaign celebrates employees' commitment to
Serving Others
, whether providing excellent customer service to DG shoppers or going the extra mile to support a cause or organization, and we look forward to highlighting additional employees' steadfast embodiment of our mission."
Employees recognized by the DG Kindness campaign in 2023 include:
Doris S.
, Store Manager in Hubbard, Ohio
Whether it's collecting school supplies and books for local schools or food and clothes for the local shelter, Store Manager Doris S. at Store #3738 in Hubbard, Ohio is always stepping up to support her community. Most recently, the Hubbard Police Department recognized Doris for her many years of community support.
"I've seen a lot of good come into this community through Dollar General. Working here gives me the chance to get to know our customer's needs," shared Doris. "I am proud to have worked for Dollar General for more than 20 years. It has given me the opportunity to provide a service for friends and family in my hometown.".
Patty Summers, founder of Youngstown Blue Coats, is a big fan of Dollar General because of Doris and her team. "Our mission at Youngstown Blue Coats is to supply our homeless Veterans food, clothing and shelter during the winter months. Our Dollar General always has the basic necessities we need to help these men and women," shared Patty. "Doris and the team are so friendly and supportive."
To honor Doris' acts of service, DG Kindness awarded $1,000 to the Youngstown Blue Coats.
Ashley S., Assistant Store Manager in Sandy Hook, Kentucky
<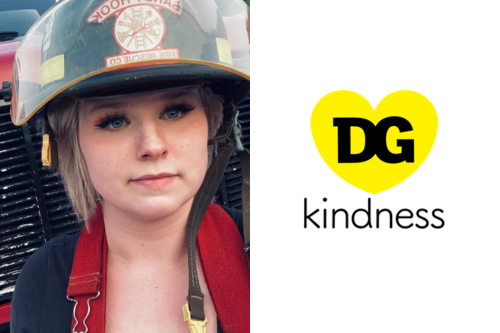 Assistant Store Manager Ashley Smith loves making a difference in her community of Sandy Hook, Kentucky. When not serving customers at Store #2684, she keeps herself busy with volunteering at local schools to support her three children and being a volunteer firefighter.
"Working full time for Dollar General, volunteering with the school and serving as a volunteer firefighter definitely keeps me busy. What motivates me to do the things I do is my kids. I do it all for them. I want to instill in them to give back and help someone if you can," shared Ashley. "There are good people everywhere. If you can't find one, be one."
Ashley has been Serving Others with Dollar General for more than ten years. "I love my Dollar General team! We work hard, have fun and learn something new every day. I started as a sales associate and am now the assistant store manager. I want to be a role model for my kids, someone they can look up to. I strive to bring my very best to my work and my volunteer efforts," she shared.
DG Kindness awarded $1,000 to the Elliott County Board of Education to support Sandy Hook schools and honor Ashley's servant leadership.
Barry E
., Distribution Center Employee in Indianola, Mississippi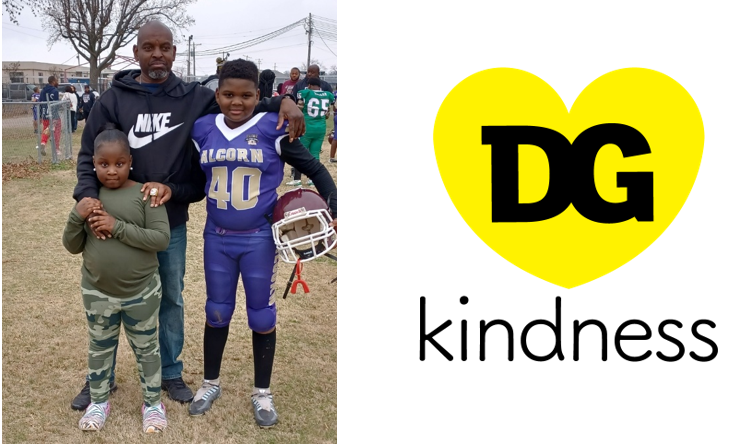 DG Kindness is honored to recognize Barry E. from DG's Indianola, Mississippi distribution center for his exceptional leadership and service with the youth in the Indianola community. Barry was recently named the Emergency Medical Responder of the Year by the Indianola Chamber of Commerce and Main Street.
"Barry is very active in his community. Most weekends, you will find Barry on the football field sidelines serving as a first responder and cheering on his grandson, Braxton," shared Johnny Mengarelli, Dollar General's Indianola distribution center director. "In addition to his noble service in the community, he is equally committed to his work at Dollar General by always contributing and lending a helping hand to our DC team.".
As an active volunteer in three community organizations for a collective 41 years of service, Barry continues to live out Dollar General's mission of
Serving Others
in everything he does. He has volunteered for more than 17 years with the community volunteer fire fighters, 10 years with Sunflower County Search and Rescue and one his especially proud of, 14 years with the Amateur Athletic Union, where he serves as a first responder to the community youth sports programs.
"My work with these young people gives me energy. I always strive to be a positive example for them," shared Barry. "The youth in our programs are so eager to play ball and creating a safe environment for them to learn and play is my priority. The $1,000 donation will go a long way to help support the young people in these programs to gain skills that go beyond the playing field. We have a chance to create an environment where they learn to lead, work as a team and support each other."
Chrissy R
., Store Manager and Team in Urbana, Illinois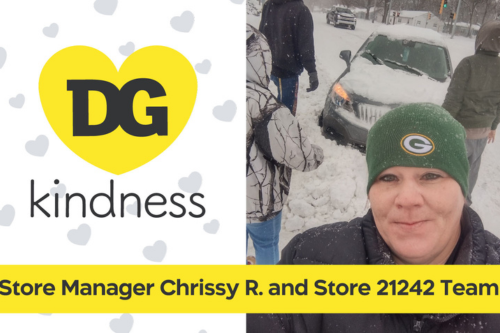 Whether it's helping residents return home from a snowy shopping run or planning a team volunteer shift, Store Manager Chrissy R. and the team at store #21242 in Urbana, Illinois are always stepping up to support their community.
When not serving customers, they are focused on and are particularly passionate about ensuring the women of their community have the support and resources needed to educate and support safe relationships. Chrissy and her team enjoy volunteering at the local women's shelter to help gather supplies, organize and support the staff.
"At Dollar General, we are committed to serving our community," shared Chrissy, Dollar General's store manager. "Through our volunteer work, we hope to bring support and hope to women in Urbana who need it most. I am grateful to have a store team that continues to join together to make a positive impact in Champaign County."
To honor Chrissy and the team's commitment to living out the company's mission of
Serving Others,
DG Kindness awarded $1,000 to the Courage Connection, whose mission is to help individuals and families achieve safety, support and success.
John C., Store Manager in Stearns, Kentucky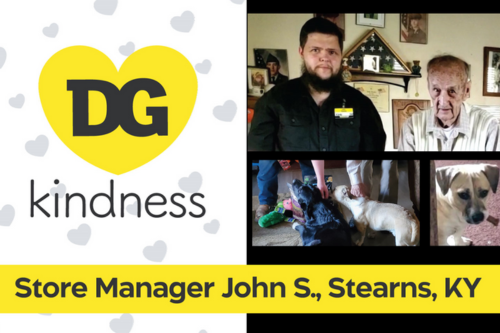 When DG Store Manager John S. arrived to work one cold morning in Stearns, Kentucky, he was surprised to find a small, orphaned puppy cowering on the sidewalk. John jumped into action, helping to warm the little guy up and fill his belly. Soon after, one of his regular customers stopped in and asked if he could give the puppy a home.
"Pistol" and proud human Gilbert, a veteran and retired teacher, are now loving companions. In celebration of National Pet Month in May 2023, John and DG coworkers sent Pistol and his brother (also a rescue) some goodies from DG's private brands, Nature's Menu, Heartland Farm and Forever Pals.
To honor John's commitment to living out the company's mission of
Serving Others
, DG Kindness awarded $1,000 to the Animal Protection League of McCreary County. Thank you, John, for
Serving Others
and helping Pistol find a fur-ever home!
Jeanette G., Store Manager and Shana B., Assistant Store Manager in New Port Richey, Florida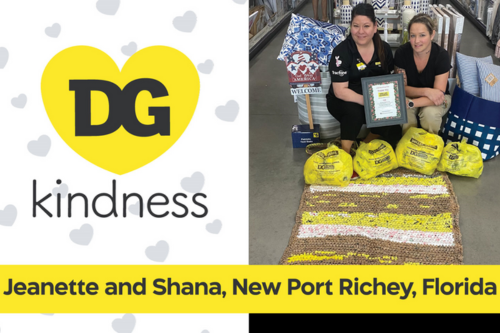 Store Manager Jeanette G. and Assistant Store Manager Shana B. in New Port Richey, Florida recycled used Dollar General shopping bags to help our environment and their community. The recycled bags are given to a local nonprofit,
Hands of the Goddess,
to create blankets and tote bags for homeless residents.
"The Dollar General team members in New Port Richey understand that serving our community means so much more than what we offer customers at our storefront," shared Jeanette. "Our team was thrilled to help provide the $1,000 DG Kindness donation to aid Hands of the Goddess' efforts. These funds will help volunteers purchase food and toiletries to place in the repurposed tote bags!"
Mike W., Maintenance Manager, Store Support Center in Goodlettsville, TN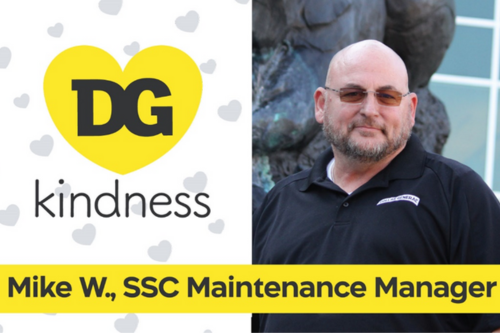 For the past 12 years, Mike W. and his local church members have supported various disaster efforts in Lynch and Harlan Counties in Eastern Kentucky. It's not uncommon for Mike to use his personal vacation days to host a trip once or twice a year.
"I couldn't think of a better way to spend time away from work. Helping others brings joy to my heart," shared Mike. "We help to rebuild people's lives when they lost everything. Our mission is to help bring back normalcy and to share the love of God. I am blessed to work for Dollar General and for them giving me the time to help people in need."
Mike and his church members' efforts were especially impactful following the July 2022 flooding that devasted communities across east Kentucky. The teams shoveled mud, mucked houses, removed fallen trees, hauled away trash and debris, hung drywall, built decks and addressed overall maintenance needs.
As a result of Mike's acts of compassion , Dollar General awarded $1,000 to
Heritage Ministries
to further their ability to mobilize help when storms impact communities.
Marcus M., Fresh Distribution Center Warehouse Supervisor II in Montgomery, AL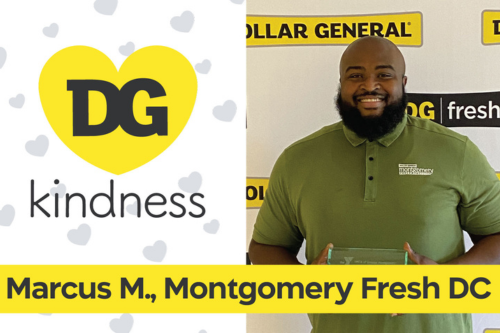 Marcus M. recently received the prestigious award of Volunteer of the Year by his local YMCA for his outstanding service and work with the youth in his community.
The recognition reflects Marcus's leadership of "The Big Brown Bus" initiative, which provides a bus that goes into neighborhoods in need to feed more than 175 children each day. Additionally, he works closely with local high school students to provide a safe space and support.
Dollar General awarded $1,000 to Marcus' local YMCA to aid the organization in their efforts to providing comprehensive programs and services that enrich communities across the country.
"Developing and being available for our young people is my priority," shared Marcus. "They are our future. The $1,000 donation will go a long way to help with the YMCA tutoring and after-school program support."
Angela C., IT Senior Business Analyst, Store Support Center in Goodlettsville, TN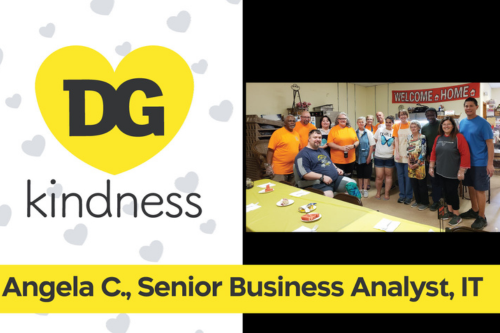 Angela C. has not only been serving Dollar General's IT and Finance divisions for more than 16 years, but her hometown community in Crestview, Florida. As a volunteer for
Dinner at Dad's Compassionate Ministries, Inc
., Angela works to plan and serve nutritious meals along with her church and community partners to those who need it most.
"I believe that every human being deserves to be treated with kindness, love and dignity," shared Angela. "This ministry was founded because we want those that we serve meals to feel like they are coming home and eating with family."
The $1,000 award provided through DG Kindness will help provide warm, home-cooked meals, hygiene products and school backpacks for those in need in the Okaloosa County community.