Dollar General Celebrates National Truck Driver Appreciation Week
Sep 12, 2023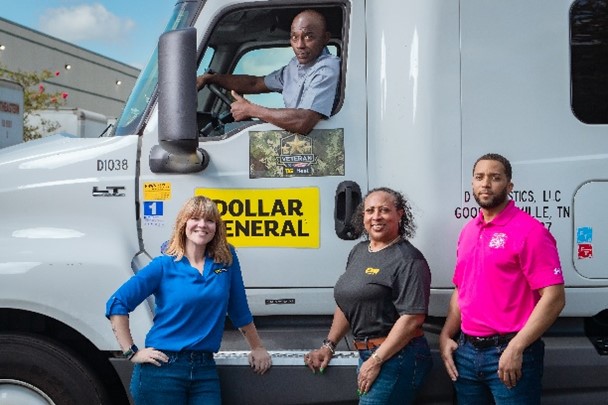 In celebration of National Truck Driver Appreciation Week, Dollar General is highlighting its growing DG Private Fleet and hosting daily activities to recognize Fleet employees and partner drivers for their dedication to serving DG customers and communities across the country.
"We are excited to celebrate National Truck Driver Appreciation Week and highlight the important work that the DG Private Fleet and partner driver teams accomplish throughout the year," shared Rod West, Dollar General's executive vice president of global supply chain. "Since its inception seven years ago, the DG Private Fleet's continued growth has not only created new career growth opportunities, but also supported business initiatives. We are thankful and grateful to all drivers as their continued efforts help ensure American families have the products they rely on us to provide in their local stores."
About the DG Private Fleet and How to Join
From its first truck in 2016, the DG Private Fleet today consists of more than 1,800 tractors and plans to have more than 2,000 by the end of the 2023 fiscal year. Additionally, the DG Private Fleet today accounts for nearly 50% of Dollar General's outbound transportation.
Individuals interested in joining the DG Private Fleet are encouraged to apply online at
www.dollargeneral.com/careers
or text DGFLEET to 25000. DG drivers can earn a competitive mileage-based pay, unload pay and bonus opportunities including sign-on, referral and performance.
Dollar General offers competitive programs for fleet drivers that include a no-cost rider for passengers age 18 and older and a pet
initiative
allowing drivers to bring one vaccinated dog or cat of eligible breed along with them on the road. Dollar General also offers an ongoing recognition program that awards points, which can be used to order products and additional items.
Dollar General's Commercial Driver's License (CDL) Employee Training Program
DG employees can participate in a Company-paid Class A Commercial Drivers' License (CDL) training program, which further demonstrates Dollar General's commitment to employees' growth and development. As of June 2023, more than 10 percent of the Company's growing DG Private Fleet team began their career at Dollar General in a store or distribution center.
Recognizing DG Private Fleet Employees
In honor of National Truck Driver Appreciation Week, Dollar General is highlighting several DG Fleet employees including:
Women in Trucking: Fallon and Melissa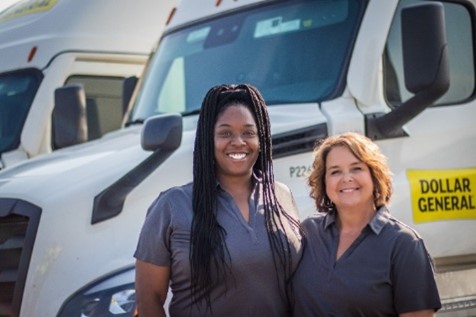 Fallon (pictured on the left) is Fleet Supervisor in Longview, Texas. Fallon started her DG journey in 2019 as warehouse employee in the Longview Distribution Center before obtaining her Class A License through Dollar General's Internal CDL Program. She drove for Dollar General's Private Fleet for 2 years and was promoted to Fleet Supervisor where she now supports fellow drivers.
Melissa A. (pictured on the right) currently serves as Senior Fleet Manager over various terminals throughout the Mid-West Region. Melissa spent 10 years in the Scottsville, Kentucky Distribution Center before joining the Bowling Green, Kentucky DG Fresh Facility as a Fleet Supervisor. A year later, Melissa was promoted to Fleet Manager and then later to Senior Fleet Manager.
Honoring DG Veterans: Josh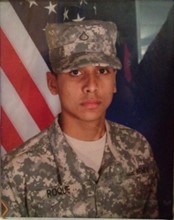 Josh R. is a U.S Army Veteran and DG Private Fleet Driver based in Dollar General's Ardmore, Oklahoma Fresh Facility. Josh began his DG journey in 2021 as a store associate and learned about the Company's commercial driver's license (CDL) training program. He was impressed and encouraged by the Company's growth and development that provides on-the-job training to earn a CDL , and joined the DG Private Fleet in [YEAR]. Currently, Josh is looking to enhance his career growth as he works to become a Certified Driver Trainer.
Dollar General proudly supports all those who served and continue to serve our country. The Company was named to
U.S. Veterans Magazine
's Top Veteran-Friendly Companies for the eighth consecutive year in FY 2022. We appreciate all veterans who work for Dollar General and have specialized decals for all veteran drivers to keep or place on their trucks to further recognize, thank and celebrate them for their service.
Grow with DG Private Fleet: Jarred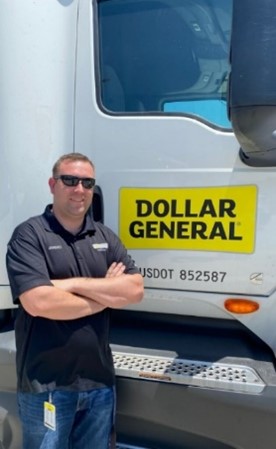 Born and raised in Oklahoma, Jarred joined the Army reserves as a petroleum specialist at age 17 and served for six years. His DG journey began at the Ardmore, Oklahoma traditional DC in 2013 when he joined the Company as a case pack picker. He cross-trained in several different areas of the Distribution Center and served as a Fleet Maintenance Mechanic for more than four years.
When he learned about Dollar General's internal training program to obtain a Class A commercial driver's license (CDL), he enrolled and graduated from the program before becoming a Fleet driver in Ardmore.
The DG Fresh expansion in Ardmore created additional growth and advancement opportunities, and Jarred was promoted as a Fleet Supervisor having first-hand knowledge to assist drivers with questions and concerns. Jarred was again promoted to Fleet manager for the Ardmore Fresh Fleet team.
"As a Fleet Manager, I applied all my trainings and knowledge to help my site, teams and supervisors all develop and excel. Dollar General is an amazing company to work for, and there is always opportunity for those willing to learn and put in the work."
DG Private Fleet 2023 Circle of Excellence Winners: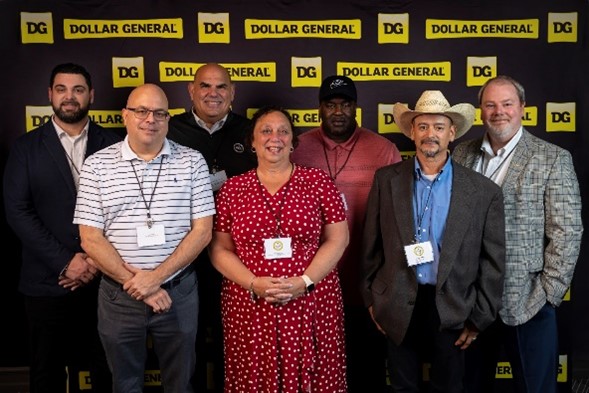 We are excited to celebrate DG Private Fleet's 2023 Circle of Excellence winners! This is an annual, companywide employee recognition program to honor employees making a difference, demonstrating outstanding leadership and achieving exceptional business results. We appreciate these drivers for their dedication to our customers, stores and communities through all the miles driven.

Our employees are our competitive advantage, and we celebrate achievements! The following employees earned a 2023 Circle of Excellence Award.

Barry A.
Martin R.
Brenda H.
Rickey H.
David H.