Dollar General Announces 19,000th Store Opening
Jan 28, 2023
Company celebrates milestone store in Joplin, Missouri with community celebration and local school donation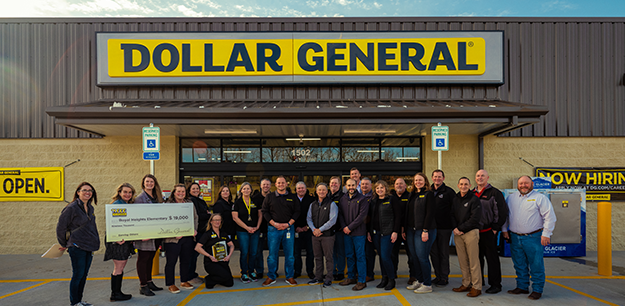 Goodlettsville, Tennessee –
January 28, 2023
– Dollar General (NYSE: DG) commemorated the grand opening of its 19,000
th
store in Joplin, Missouri today with a community celebration and $19,000 donation to a local elementary school. Customers also received complimentary DG gift cards, tote bags and product samples.
"Today marks an exciting milestone in Dollar General's history as we open our 19,000
th
store," said Jeff Owen, Dollar General's chief executive officer. "Since opening our first Missouri store in 1973, Dollar General has a longstanding history in the state and proudly employs more than 6,000 Missourians through our store, distribution center and DG Private Fleet. I would like to express my sincere gratitude to the entire Dollar General family whose dedication to our customers helped us to reach this milestone. We look forward to continuing to serve the Joplin community."
In keeping with Dollar General's mission of
Serving Others
, Dollar General donated $19,000 and 100 new books to Royal Heights Elementary School in Joplin to support ongoing literacy and education programs.
"Joplin schools have been intentionally working to improve primarily literacy in the Joplin community," said Breanna Faircloth, principal at Royal Heights Elementary. "We are extremely grateful for the Dollar General donation to further enhance these efforts, bringing us closer to achieving reading proficiency for all students."
The Company believes the addition of each new store provides positive economic benefits including additional access to affordable products for customers; the creation of new jobs and career development opportunities for employees; the generation of additional tax revenue; and the ability for local nonprofits, schools and libraries to apply for literacy and education grants through the Dollar General Literacy Foundation.
Dollar General was founded as a wholesale venture in 1939 by J.L. Turner and his son, Cal Turner, Sr. The father and son duo opened the first Dollar General store in 1955 in Springfield, Kentucky.
Download high-resolution images from the celebration
here
.