Dollar General and Kellogg Company Partner for Third Year to Donate 60,000 Books
May 02, 2023
Companies Plan to Provide New Books to Elementary Schools to Celebrate New DG Store Openings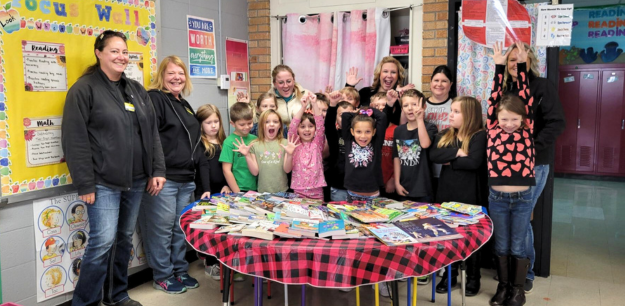 Goodlettsville, Tennessee –
May 2, 2023
– For the third consecutive year, Dollar General plans to partner with Kellogg Company and donate more than 60,000 new books to local elementary schools in celebration of new DG store openings in fiscal 2023. Since the
partnership
began in 2021, school libraries and students across the country have received more than 160,000 books.
"With each new Dollar General store opening, we remain committed to being a good neighbor by investing in communities' literacy and education programs," said Denine Torr, Dollar General's vice president of corporate social responsibility and philanthropy. "We are grateful for Kellogg Company's continued partnership and collaboration that helps us provide new books for local school libraries as we believe reading helps create brighter futures and opens doorways for personal, professional and economic growth."
"We're proud of our longstanding partnership with Dollar General to put more books in students' hands," said Nicole Plunkett, Dollar General's Customer Team Lead for Kellogg U.S. Sales. "This is a wonderful example of how we're helping to create Better Days for families and individuals in our communities."
Dollar General has a deeply-rooted history of championing education initiatives, particularly through the
Dollar General Literacy Foundation
that celebrates its 30
th
anniversary in 2023. With the belief everyone deserves an equal opportunity to receive a basic education, the Dollar General Literacy Foundation has invested in literacy programs increasing access, enhancing the quality of instruction and inspiring and advancing innovation. Since its inception in 1993, the Foundation has awarded more than $219 million to support literacy and learning, enabling more than 16.1 million people to achieve their goals.
For additional information, photographs or items to supplement a story, please visit the DG Newsroom, contact the Media Relations Department via email at
dgpr@dg.com
.
About Kellogg Company
At Kellogg Company (NYSE: K), our vision is a good and just world where people are not just fed but fulfilled. We are creating better days and a place at the table for everyone through our trusted food brands. Our beloved brands include
Pringles®, Cheez-It®, Special K®, Kellogg's Frosted Flakes®, Pop-Tarts®, Kellogg's Corn Flakes®, Rice Krispies®, Eggo®, Mini-Wheats
®, Kashi®,
RXBAR
®,
MorningStar Farms
® and more. Net sales in 2022 were over $15.3 billion, comprised principally of snacks as well as convenience foods like cereal, frozen foods, and noodles. As part of our
Kellogg's Better Days® Promise
ESG strategy, we're addressing the interconnected issues of wellbeing, climate and food security, creating Better Days for 3 billion people by the end of 2030 (from a 2015 baseline). Visit
www.KelloggCompany.com
.