DG's Emily Taylor Named to 2023 Top Women Leaders List
Nov 21, 2023
Women We Admire Announces Top 50 Women Leaders in Consumer Products and Retail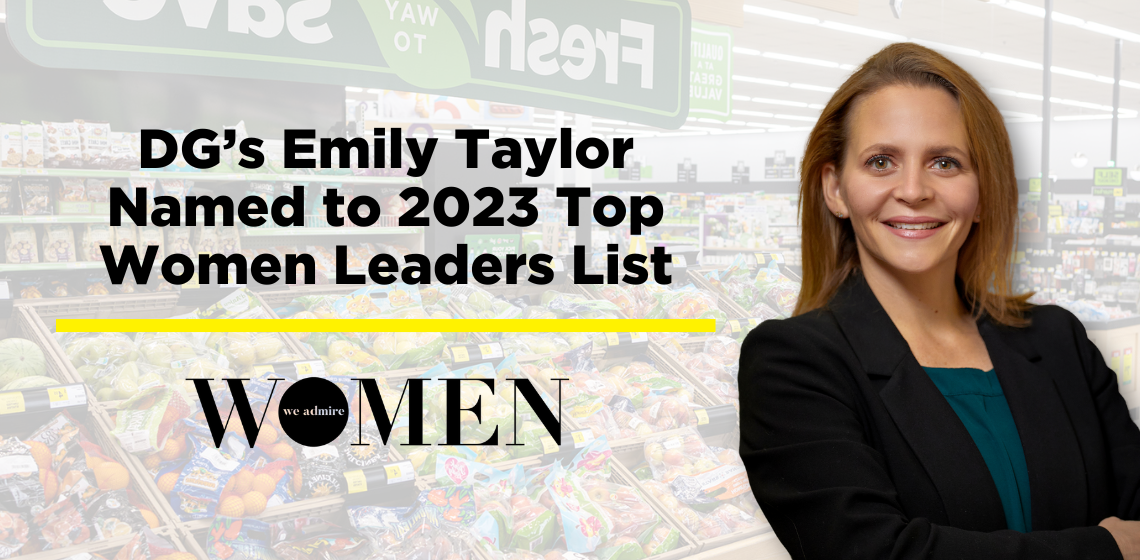 Emily Taylor, executive vice president and chief merchandising officer at Dollar General, was recently named to The Top 50 Women Leaders in Consumer Products and Retail for 2023 list, published by Women We Admire. The list recognizes women at the forefront of trends who bring fresh perspective to product development, marketing, customer engagement and more.
"Under Emily's leadership as CMO, she reworked our DG Market format to incorporate Food First and Beauty Reinvention strategies, including reimagined product sets and innovative options for customers," said Todd Vasos, Dollar General's chief executive officer. "Most recently, Emily and team evolved the DG Media Network (DGMN), which allows advertisers to reach the hard-to-reach consumer, especially in rural markets, and close the loop with in-store sales. We are pleased that Emily's achievements are being recognized."
As chief merchandising officer, Taylor leads the Company's merchandising, marketing, global sourcing, digital, merchandise operations, customer insights, channel innovation and in-store experience efforts at DG's approximately 20,000 retail locations.
As the first to market to offer closed-loop measurement of in-store sales, DGMN continues to evolve, creating more meaningful experiences for advertisers that resonate with consumers in their shopping journey and deliver measurable outcomes. The network recently announced a first-to-market partnership with Meta, enabling advertisers to reach DG's more than 90 million unique customer profiles across their ecosystem.
She joined DG in 1998 and has held roles of increasing responsibility in several areas within the organization including investor relations, financial planning and analysis, pricing and merchandise planning as well as channel innovation. Taylor was named executive vice president and chief merchandising officer in September 2020.