DG Partners with Kate DiCamillo to Support A.Z. Kelley Elementary School in Antioch, Tennessee
Nov 06, 2023
DG Surprises School with $50,000 Grant and Donates Approximately 700 Books to Students;
Award-Winning Novelist and Because of Winn Dixie Author Reads to Students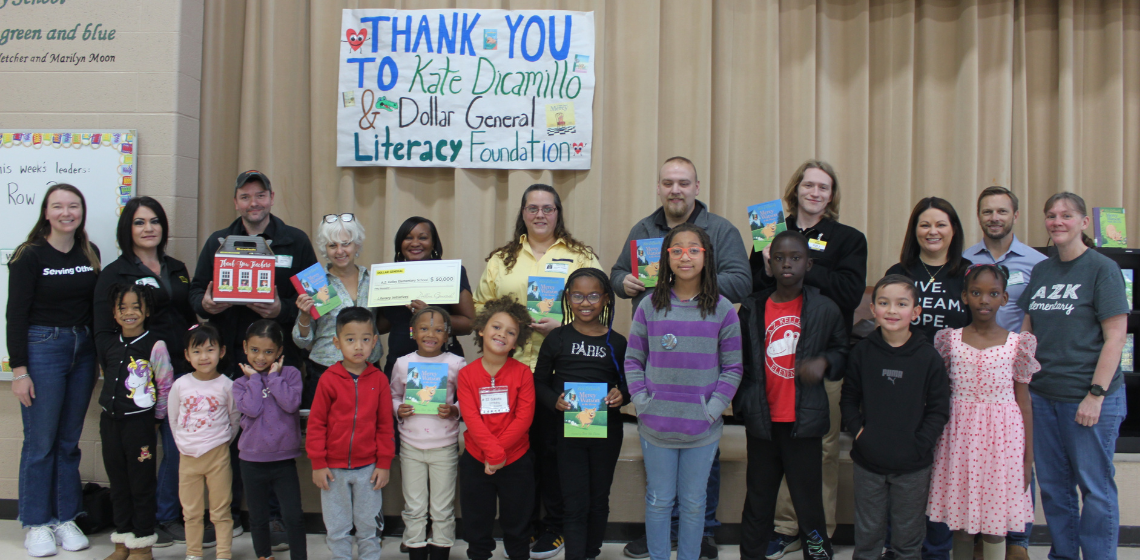 Dollar General recently partnered with Kate DiCamillo to surprise A.Z. Kelley Elementary School in Antioch, Tennessee with a $50,000 literacy grant from the Company's Reading Revolution program. Students and teachers also enjoyed a special reading from the award-winning novelist and author of Because of Winn Dixie.
As part of the surprise, DG donated school supplies kits to teachers and staff, as well as a book to each student written by DiCamillo, totaling approximately 700 books, to add to students' personal library collections and encourage their love of reading.
"Books have the ability to increase knowledge, inspire creativity, awaken the imagination and take us to far-away lands with the turn of a page," shared Denine Torr, Dollar General's vice president of corporate social responsibility and philanthropy. "As ardent supporters of literacy and education, we believe a great education is built upon the ability to read well. We hope the funds, books and school supplies provided today will help A.Z. Kelley elementary in their efforts to ensure all students have access to the quality literacy programming and resources they need to achieve academic success."
Since its inception ten years ago in 2013, Dollar General's Reading Revolution program has awarded more than $4.4 million to more than 120 schools. The funds may be used to purchase books, technology programs, computers and other educational tools.
"We extend our heartfelt appreciation to our valued community partner, Dollar General, for their generous support," shared Kamilah Mathews, A.Z. Kelley Elementary School Principal. "Their contribution enables us to maintain the highest standards in educating our students. Thank you, Dollar General, for your commitment to the shared goal of 'Learning and Leading Together.'"
Kate DiCamillo is the author of many books for young readers. Her books have been awarded the Newbery Medal (Flora & Ulysses in 2014 and The Tale of Despereaux in 2004); the Newbery Honor (Because of Winn-Dixie, 2001), the Boston Globe Horn Book Award (The Miraculous Journey of Edward Tulane, 2006), and the Theodor Geisel Medal and honor (Bink and Gollie, co-author Alison McGhee, 2011; Mercy Watson Goes for a Ride, 2007). She is also a National Ambassador for Young People's Literature Emerita, appointed by the Library of Congress.