DG Celebrates One-Year Anniversary of Fort Worth, Texas Regional Facility
Nov 01, 2023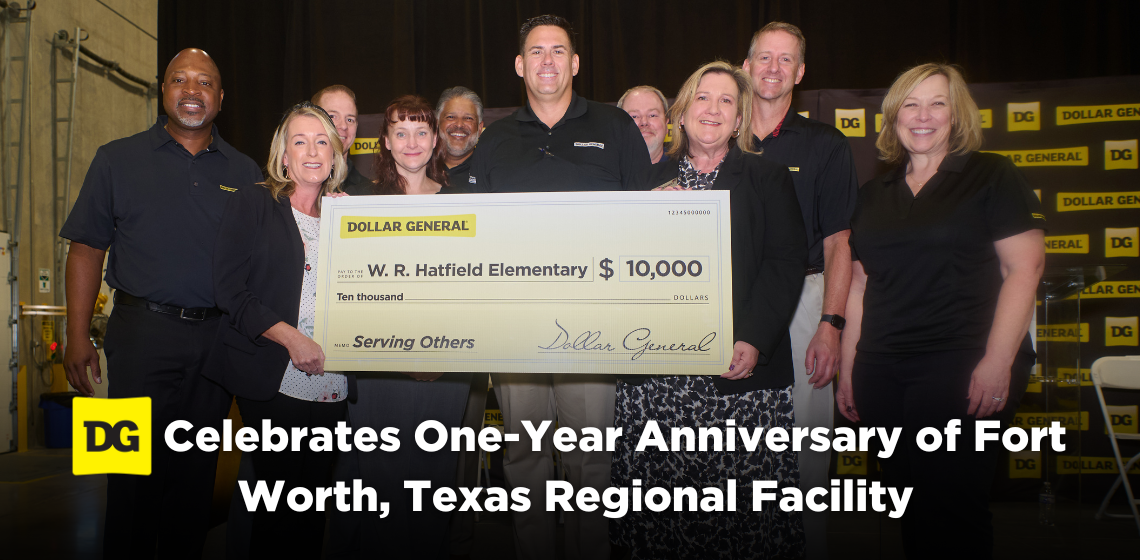 Dollar General recently celebrated the one-year anniversary of its Fort Worth permanent regional facility and its long-term presence in the Lone Star state alongside employees, their families and DG leaders. In keeping with its mission of Serving Others, Dollar General also donated $10,000 to W.R. Hatfield Elementary School in Justin, Texas.
The Fort Worth facility is approximately one-million-square-feet and serves as an intermediary point between import locations and Dollar General's distribution center network. It is Dollar General's fourth distribution facility in Texas within the last seven years, as the Company opened its traditional San Antonio facility in 2016; Longview in 2019; and its DG Fresh facility in San Antonio in 2020.
Distribution center employment opportunities are online at www.dollargeneral.com/careers. Dollar General provides employees with competitive wages, award-winning training and development programs and benefits including day-one telemedicine eligibility, health insurance coverage options, 401K savings and retirement plans, tuition reimbursement, paid parent leave and adoption assistance to eligible employees.

Dollar General believes the addition of each distribution center represents positive economic impact in the communities it serves and takes several factors into consideration when choosing distribution centers sites including proximities to DG stores, local business environments and local workforces, among others.
Since opening its first store in Texas more than 45 years ago, Dollar General has grown to operate more than 1,800 stores in the state.