DG Brands Honored by StoreBrands
Aug 24, 2023
2023 Editors' Pick Awards Recognizes Four Exclusive and Private Brands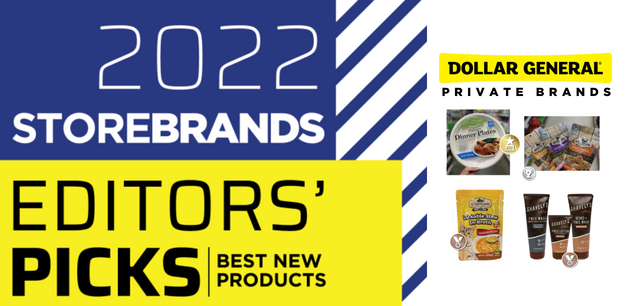 Four Dollar General exclusive and private brands were recently
featured
in the 2023
StoreBrands
Editors' Picks Awards, highlighting the Company's commitment to providing affordable access to high-quality products. They include:
"At DG, we are constantly listening, learning and evolving our product development to best meet our customers' wants and needs," said Jackie Li, Dollar General's
senior vice president of private brands and global sourcing. "These honors highlight the exclusive and private brands team's innovative and strategic work, and we are grateful for
StoreBrands'
recognition. We look forward to continuing to provide value on these and all private brand products."
StoreBrands'
annual competition honors the best new products of the year, and a panel of editors review hundreds of product entries. Entries are judged based on innovation, functionality, market success and its overall impact on the industry. Gold, Silver and Bronze winners are selected and recognized in 26 categories. View the complete list of Editors Picks Awards online in the
July/August 2023 edition
.
Meet DG's Award Winners
Three brands from Dollar General's recent
Beauty Reinvention
expansion, which was
announced
in March 2023, were recognized:
Dollar General's exclusive Believe Beauty Skin offers a refreshing selection of dermatologist-tested products for each stage of skincare, for normal, dry and oily skin types. The products are free of parabens, phthalates, mineral oil, petroleum, triclosan and are vegan and cruelty-free with no animal testing.
Curl Rhythm™ hair products are made with natural seed oils that penetrate the strand, building moisture and shine that is visibly different. Baobab seed oil, the key ingredient, provides deep moisture and shine, fortifying the strand to prevent breakage and providing anti-frizz results. Curl Rhythm is always silicone-free.
Additionally, Dollar General
announced
its reformulated and rebranded dog and cat food line,
Nature's Menu
,
in March 2023. The line features dry and wet pet foods crafted with natural ingredients including real beef, lamb or farm-raised, cage free chicken as the #1 ingredient.
Learn more about all Dollar General private brands, which includes a 100 percent satisfaction guarantee on most products, by clicking
here
.