Curl Rhythm Hair Care Brings Performance and Value to Dollar General
Mar 28, 2023
New, Exclusive Line Delivers Rhythm, Balance and Harmony to Textured Hair Buyers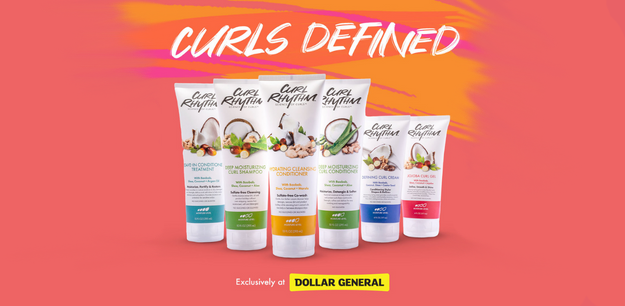 Dollar General is continuing its beauty expansion journey and further meeting the diverse needs of its customers through a new product line designed to bring the science of curls to its shelves. Curl Rhythm delivers moisture, strength and lightweight definition to curls, coils and waves. Based on feedback from textured hair customers, Curl Rhythm was developed with their needs in mind. The six products in the initial line provide the moisturizing, defining and strengthening benefits she wants at an accessible price.
"We are excited to welcome Curl Rhythm to our shelves, providing our shoppers with a new option to address their textured hair needs that yields hair with bounce and rhythm," said Amanda Wilson, beauty buyer at Dollar General. "We actively listened to our customers and are pleased to bring this exclusive collaboration to fruition."
Hitting shelves in Dollar General's more than 19,000 stores in 47 states, Curl Rhythm delivers proprietary technology that combines emollients, botanicals and humectants to provide nourishment, moisturization and shine. The products also fortify strands to help prevent breakage while leaving curly, wavy and coily hair healthy looking.
"Curl Rhythm unites people by the texture of their hair, regardless of ethnicity," said Jeff Smalley, senior vice president of sales at High Ridge Brands. "Approximately 30% of hair care shoppers have textured hair, and Curl Rhythm aims to exceed the needs of the women we serve. We are proud to collaborate with Dollar General to create this inclusive line."
Moisturizing Power
Curl Rhythm products are made with Baobob, Shea and Coconut Oils and combines with enhancements of natural seed oils that penetrate the strand, building moisture and shine that is visibly different with strands protected, nourished and defined. Curl Rhythm has been proven to "make curls pop."
Total Curl Regimen
Curl Rhythm's sulfate-free shampoo cleanses gently while levels of moisture are built throughout the entire line, especially in the detangling conditioner, leave-in treatment, hair mask and conditioning stylers.
Nature + Science
After rigorous testing, Curl Rhythm's formulations are expertly blended to enhance performance. The line is free from sulfates, silicones, parabens, phthalates, petrolatum, mineral oil and dyes with no animal testing.
Products include:
Curl Rhythm products retail for $6 at Dollar General. Learn more about Curl Rhythm online at
curlrhythmbeauty.com
.